January 28, 2014 Newsletter
BRRRRR!! This cold weather is not fun!! We are so ready for Spring and warm weather! We hope everyone is staying warm and safe!
Sharynn's Quilt Box continues to be closed on Sunday's and Monday's. We are open Tuesday – Friday, 10 a.m. – 5:00 p.m. and Saturdays, 10:00 a.m. – 3:00 p.m.



For your shopping pleasure and convenience:


President's Day Sale - Wednesday, February 12 through Tuesday, February 18, 2014. 0% interest 48 month financing on any purchase over $3,000. If you are considering purchasing a new machine, you should think about taking advantage of this offer.

It's Here! The all new Horizon Memory Craft 15000. If you haven't had an opportunity to come in and "test drive" the MC15000, you owe it to yourself to do so. This machine has so much to offer and is so fun and exciting – we don't want to do anything but sit and embroider and sew!
The MC15000 has the following features and more:
Creative:
Hundreds of new built-in designs, including Designer exclusives.
Fast:
Double the processing speed.
Smart:
iPad connectivity with AcuEdit and AcuMonitor apps PLUS wireless communication to your laptop or PC.
Easy:
New automatic needle threader and more.
Clear:
The largest, most vivid touch screen available.
For a limited time, receive an iPad with the purchase of a MC15000!
Stop by today to see this wonderful machine and all it has to offer!
Royal Retro
from Wilmington
has arrived in the shop. Be sure and stop by check out this collection of gorgeous fabrics in wonderful blues, purples and greens. Below is a sample view of this grouping.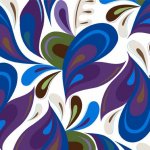 Just a Pinch
from Quilting Treasures
is a spice-themed collection for wonderful kitchen projects! Following are a few samples of this grouping.
Lumina
by Robert Kaufman
is one of the most striking collections we have had for a long time. The colors and patterns are very different and unique. Here are just a few of the fabrics:


Ink Blossom
from RJR
is a wonderful collection in bright, cheerful colors of black and white, black and yellow and black and turquoise – fun, fun, fun! Here are a few samples guaranteed to fire up your creativity!
Farmers Market
by RJR
is a collection of fat quarters showcasing all kinds of fruits and veggies.


We have new charm squares, layer cakes and jelly rolls on our shelves. These are from Moda – stop by and check out Hubba Hubba, Mixed Bag and Bloomin Fresh.
Hope Chest Batiks and Color Crush
by Moda
are new batiks. Take a look:
Pillow Pizzazz
is a collection of 12 sets of gorgeous pillows. Pillows are the perfect complement to any room. If you're looking for a weekend project to freshen up a sofa or bed, this book may be the answer! Pillows offer many options and opportunities for designing, skill building and gift giving, and they can be a quilter's inspiration.
Learn to Do Applique in Just One Weekend
is written for use as a technical guide to traditional and contemporary techniques used by applique quilt makers today. Quilters wanting tips and answers about improving their own applique techniques, as well as learning new techniques, will find many helpful suggestions.
CLUBS

NOTE: Pre-registration and signup are required for each session. Supply lists will be provided when participants sign up.
Kids Club is finished until Fall – watch future newsletters for announcement on date and time it will resume.

Thimbleberries Club's new name is Sharynn's Stitching Friends. The next meeting will be Saturday, February 8, 2014 at 9:00am. Be sure and bring Show and Tell




CLASSES
NOTE: Pre-registration and signup are required for all classes.
Put Your Best Foot Forward
Rose is once again holding classes that demonstrate how to use the different feet for our sewing machines. The January 23, 2014 class has been rescheduled for Thursday, February 20 from 1:30-3:00 pm. She will be showing us how to use the beading foot and she will also show us different ways to use a wing needle to enhance your sewing.


We will begin a Kansas Troubles BOM in March. The BOM will meet the second Tuesday of each month, for 6 months, starting March 11, 2014. Stop by the shop for more information. A sample of the quilt will be on display soon. The finished quilt will measure 64" x 64".



HELP make hospital stays as pleasant as possible for chronically ill children. Join ConKerr Cancer (Riley Hospital) in their mission to brighten the lives of sick children in hospitals through homemade pillowcases. Making a pillowcase is easy, rewarding and it can have a positive impact on a child in need. You can help by making a cheerful pillowcase, donate fabric or other sewing materials, or donate funds to help in the purchase of supplies. Sharynn's Quilt Box is a designated drop off point for finished pillowcases. If you want to participate, drop by today for further details and a free pattern for the pillowcase along with directions on laundering and packaging. If you can't make a pillowcase and want to help, stop by for information on donating materials and/or money for materials.


Other information
Cancellation Policy – We require that you give a five (5) day notice when canceling a class. If you must cancel a class and give us the required notice, an in-store credit will be given. No credits will be issued for no-shows or anyone failing to give the appropriate notice. If we cancel a class, we will give you an in-store credit or a refund. There is a minimum and maximum class size. Be sure to sign up early for the class you are interested to guarantee a spot for yourself.

We look forward to seeing you in the shop – be sure and take time to stop in, say hello and browse!

Sharynn