Skip Navigation
Website Accessibility
newsletter March 15th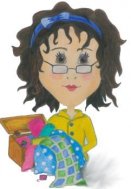 SHARYNN'S QUILT BOX
890 S. STATE ST.
P.O. BOX 1041
NORTH VERNON, IN 47265
812-346-4731
We are back to freezing. But we have some beautiful fabrics that will inspire Spring if only in your mind! Beautiful florals, bright colors and wonderful pastels all you need is to add your imagination. So many patterns that it is hard to pick and choose.
We have had several more people express an interest in the Embroidery Class. So we are thinking of running a night class. This class would be on a Tuesday or maybe Thursday evening from 5:30 P.m. -- 7 p.m. If you are interested, please call Sharynn 's at 812-346-4731 to sign up. There is class fee and a kit fee. On that note, we had a blast making the "Cute and Crabby TOWEL for April. We have 2 samples on display at the shop so come by and see them. We are working on the next design for May.
12TH ANNUAL CHARMING SPRING SHOP HOP – March 29 thru April 1, 2017.
Eight Shops will be "blooming for spring"! There will be lots of prizes, demos, treats and just plain fun for everyone. Get your passport stamped at each shop and be eligible for the Grand Prize drawing of 3160QDC Janome machine. There will be 8 - $25.00 Gift Certificates, 8 - $50.00 Gift Certificates, Gift Basket filled with 80 Fat Quarters, and 8 – in store gift Certificates. Plus there will be quilts and projects at each shop that we are sure you will find of interest. We are eager to see all our "old" friends and to make lots of new ones!
Celebrate National Quilting Month with AccuQuilt!!! Save $30.00 on all GO! Cutters. GO! BIG electric fabric cutter is $469.00 after rebate. GO! Fabric Cutter is $219.99 after rebate and GO! Baby fabric cutter is $99.99 after rebate. This offer is valid from 3/1/17 to 3/31/17. Now's the time to buy and make cutter fabric easier on yourself.
ST. PATRICK'S DAY SALE:
Janome Skyline S7 is on EXTRA SPECIAL PRICING FOR THE MONTH OF MARCH!! Ask about our special pricing on this awesome machine. This will only last until the end of March.
ON ST. PATRICK'S DAY ONLY…….all green fabric MARKED WITH A PINK DOT will be on 25% off. THIS IS ONE DAY ONLY SALE!!!
COMING TO SHARYNN'S QUILT BOX:
Sharynn's Quilt Box will be Hosting a 3 Day Hands-on Truck Load Education Event
May 4-5-6 Thursday-Friday-Saturday.
We will fill our class room with Long-arm Machines and the well-known Handi Quilter educator Susan Jungerheld will be conducting our event.
There will be a sign-up sheet available in the near future with a cost of each class.
Thursday, May 4
3 hour Morning Class Longarm Quilting Boot Camp Basics
3 hour Afternoon Class (continued )
Friday, May 5
3 hour Morning Class Rulers - Custom Waves, Circles & Curves
3 hour Afternoon Class Creative Textures and Fills
Saturday, May 6
3 hour Morning Class All About Feathers
3 hour Afternoon Class You Can Do That on a Handi Quilter?!
These classes are already filling up fast. So don't wait. Call 812-346-4731 to reserve your spot. Susan is a well known professional machine quilter. She has been sewing her whole life and teaching and sharing her knowledge and experiences with quilters since 2013.
We will not have a Sit 'n' Sew in March due to the Shop Hop. But it will return in April. Mark your calendar for April 26th 1:30 to 4:30. Come and enjoy the afternoon free from interruptions!
Check out FaceBook for new posts. Please share with friends.