Newsletter May 10th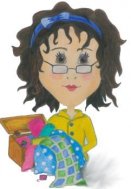 SHARYNN'S QUILT BOX
890 S. STATE STREET
P.O. BOX 1041
NORTH VERNON, IN 47265
812-346-4137

We want to thank everyone who participated in our Handi-Quilter workshop. It was so much fun and we hope that you learned a lot!
Southern Indiana "Spirit of America" Shop Hop……June 21st thru June 24th, 2017. Participating shops are: Sharynn's Quilt Box, L & L Yard Goods, Margie's Country Store, Quilters Corner Cottage, The Quilting Bee, The Village Mercantile, Let's Sew, The Stitching Post and Scrappy Patches. Shop Hop hours will be 9-6 each day but please remember The Village Mercantile and Let's Sew are on Central Daylight Time. All others are on Eastern Daylight Time. Passports are now available in our shop. Price is $5.00 up to day of and then $6.00. Be watching Facebook for more info and pictures.
You will receive a free pattern for our quilt block and the kits with the pattern are $5.00 each. There are prizes at each shop and the Grand Prize is a Janome Anna Marie Horner M100 machine from Sharynn's or a Baby Lock from Let's Sew. Each shop will give away a Gift Basket valued at $125.00 and a basket filled with 90 fat quarters is up for grabs!! And each shop will give away a $50.00 gift certificate. Get your passport early and receive a pin of the State of Indiana. Pins are limited so get yours early!!


Cathy will be teaching a 6 month Block of the Month called Rachel Remembered 1820-1850. This is Betsy Chutchian's for Moda. Betsy is known for her classic reproduction prints inspired by moving historical stories.
Rachel Rmembered's inspiration derives from an antique quilt that included a print commemorating General Andrew Jackson. Seeing that print mixed with the many beautiful floral and chintz prints was a reminder of his wife, Rachel, who passed away after he was elected President of the United States but before he was inaugurated. Soft golds, federal blue, a deep shade of red, and creamy background prints complete the feel of this vintage collection.
Come in and see this as it is beautiful. More details will be available soon. If you are interested, please call the shop (812-346-4137) so that we can get an idea of how many are interested.
Tomorrow is our EMBROIDERY CLASS:
Morning Class is 9-12 and Afternoon Class is 1-3.
Our May project is a cupcake greeting card. Items needed:
1) 5x7 hoop
2) Self-adhesive stabilizer
3) Thread in colors of yellow (we used a light lemon), blue, salmon, white or green depending on what you want.
Our Sit 'n' Sew will be Wednesday, May 31 from 1-4. You are welcome to come to our classroom and sew undisturbed!! Please call to reserve a spot. The cost is $5.00.
Are you interested in taking a class? If you will let us know what you would like we will try to set up a class. We must have a minimum of 8 people to take a class.