Newsletter August 30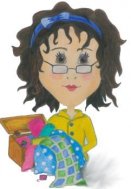 SHARYNN'S QUILT BOX
890 S. STATE STREET
P.O. BOX 1041
NORTH VERNON, IN 47265
812-346-4731
WOW! We are in the midst of our Sit 'n' Sew and Fall in Love SALE on the Skyline S7! Come in and give it a "test drive". If you decide to purchase one, you will receive a coupon for $200.00 (to be used later).
You can sew on this machine that features 240 built-in stitches, 11 one step buttonholes, 7 built-in alphabets, automatic thread tension, built-in advanced needle threader, automatic presser foot lift, a scissors, AcuFeed Flex layered fabric feeding system and many ore great features.

Janome machines help you do more of what you love!
The newest machines in Janome line-up have arrived! The Memory Craft 15000 Quilt Maker and the Memory Craft 6700P Professional are now in stock. Come and take a look. Christmas isn't that far off….start dropping those hints!
Along with our Sit 'n' Sew and Fall in Love, our sale fabric in the classroom will be on 20% off the Sale Price for August 30th, August 31st and September 1st.
SAVE THE DATES: SEPTEMBER 16TH
We will be participating in National Jelly Roll Day. Do you have pre-cuts in your stash?? Don't we all?! We love these handy little things and sometimes we get them home and they get "lost" in that stash. So dig out those Jelly Rolls and come and sew with us on Saturday, September 16th from 10 a.m. to 2:30 p.m. We'll have patterns and lots of Jelly Rolls if you need inspiration.
There is no charge for this Sit 'n' Sew day. We will have some prizes, treats, maybe some games and lots of fun. Circle the date, grab your girlfriends and come and sew with us. Please call so that we know how many to plan for.
November 1ST
Sharynn's Quilt Box will be sponsoring a Superior Threadology class. It will be a 3 hour class from 5:30 p.m. to 8:30 p.m. here in our classroom. The cost is $20.00. It will be interactive, hands on workshop guided by a Superior Certified Threadologist. Students will have the opportunity to explore and use a variety of Superior Threads. We are limited to 20 students and you MUST pre-register. You will receive a thread kit. This is an intermediate to advanced class. You will be sewing so you must be familiar with your machine. During the event the Superior Certified Threadologist will provide threads for all students use during the class.
Student Kits will include:
1) Educational DVD, Thread Therapy with Dr. Bob
2) Pack of 5 titanium coated Superior Topstitch needles in assorted sizes
3) Two pre-made sewing blocks to use in the class
4) Thread workshop handout
5) "What Makes Us Superior", 108 page color booklet and reference guide
Students will be provided with different varieties of thread to use. You don't want to miss this one.
If you are a Handi-Quilter owner and interested in the Pro-Stitcher classes to be held November 2nd & 3rd, please go to the website: www.sharynnsquiltbox.com for more information. It is under Newsletters. If you have questions, please call the store.
Please check out Sharynn's Quilt Box on FaceBook to see all the latest pictures of new items. Please like and share. Coming soon….we will be on Instagram.
Upcoming Events in September:
September 4th - Labor Day….we will be closed.
September 9th - Sharynn's Stitchin' Friends – 9 a.m. here in our classroom
September 13th - Embroidery Classes – 9 – 12 noon and 1 – 3 p.m.
September 16th – National Sew a Jelly Roll Day
For members of the Embroidery Classess:
Here are items you need to bring for the next class (September 13th)
1) Embroidery thread – red, gold, green, orange or any that you think will work with the Mylar Leaves
2) Wash Away Stabilizer
3) A 5x7 hoop
4) Bobbin thread to match the top thread
If you have any questions, please call the store. The leaves are now on display in the classroom.