Skip Navigation
Website Accessibility
Newsletter September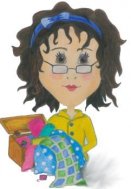 SHARYNN'S QUILT BOX
890 S. STATE STREET
P. O. BOX 1041
NORTH VERNON, IN 47265
812-346-4731
Here we are in September already! The days are shorter, cooler, and the Holidays are just around the corner. Don't know about you but we feel like it should be just the beginning of summer!
We have some beautiful fall fabric for table runners, wreaths, pillows, and home décor. Now's the time to get busy on those projects.
Christmas fabric is selling quickly and some is already gone. We have lots of patterns for Christmas that are fast and easy. If you saw our Facebook page, we put a picture on of the "10 Minute Pillow". It doesn't take much more than the true 10 minutes to sew up this project. These would make great gifts for grandkids. Go to Facebook or come in to see the finished project.
ATTENTION EMBROIDERY CLASS Members:
Items you will need to bring:
1) 5x7 hoop if you want to make more than 2 leaves, bring a larger hoop
2) Wash-away stabilizer
3) Thread to match either red or gold mylar
Since this is a free-standing project, you might want to use the same color thread in the bobbin as you are using on the top.
Date for this class is September 13th morning class from 9 – 12 and afternoon class from 1 -3. Looking forward to seeing all of you. If you have missed a class and wish to make it up, please call the shop to schedule a time. We are happy to work with you.
We have lots of fabric on our sale racks. Be sure to check this out.
Come and sew with us for NATIONAL JELLY ROLL DAY! We are looking forward to seeing you all and to seeing what you make from the jelly rolls. The date is SEPTEMBER 16th here in our classroom from 10 a.m. to 2:30 p.m. We will have some treats, prizes, and lot of fun. So come and join us.
September Sale!! Lowest price of the year! Save $50.00 on GO! Fabric Cutter Starter Sets. These are on sale until October 1st. We have received new Accuquilt GO! Cutters and Dies. We still have GO! Qube 6", 8", & 9" Companion Set-Classics for 50% off! We also have GO! Qube 12" Companion Set-Classics for 50% off too! You can't beat the price.
Handi-Quilter Demo Sale now going on. Come in and talk to Darrell. He's making deals!
UPCOMING EVENTS:
September 9th – Sharynn's Stitchin' Friends 9 a.m.
September 13th – Embroidery Class morning and afternoon
September 16th – National Sew a Jelly Roll Day
Lots more to come in October, November and December! Reserve November 30th, December 1st and December 2nd for the 4 County Shop Hop and our Open House. Big things are in the works!