Skip Navigation
Website Accessibility
Newsletter October 4th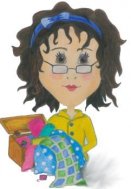 SHARYNN'S QUILT BOX
890 S. STATE STREET
P.O. BOX 1041
NORTH VERNON, IN 47265
812-346-4731
Hello, October!! The Holidays are getting closer and closer all the time. It won't be long and we'll be into the "crunch" time of getting everything ready for decorating and family. Why not begin now instead of waiting? Come in and see what we have already finished up and get some ideas to make for yourself. We have bench pillows (patterns and kits), we have wall hangings, table runners and lots more to choose from.
And while you are here….look over all the new machines that we have to offer. The new 4120QDC Blue is in stock and the Memory Craft 6700P which is a "workhorse" of a machine. The M7200 is a very popular machine. Our top of the line Memory Craft 15000 Quilt Maker is such an awesome machine that it is hard to describe! And remember that Sharynn's Quilt Box will meet all competitors pricing. We offer service on site and lessons to learn your machine.
Do you have a young person who is interested in sewing? Maybe they need a new machine. We have a machine for every need!
We are a Handi-Quilter Dealer too. So you can get a sewing machine to piece your project and a quilting machine to quilt it! We still have the Demo Sale going on so come in and see the possibilities.
ATTENTION ALL HANDI-QUILTER OWNERS!
Linda Gosselin, HQ National Educator, Art & Stitch Certified Instructor and Superior Threadologist will be here for classes. The dates are November 2, 3, & 4. If you haven't signed up, please call the shop to get in as space is limited.
INTRODUCTION AND UPGRADE TO THE HQ PRO-STITCHER:
HQ Pro-Stitcher is an intuitive computer-guided quilting system designed especially for use with the Handi-Quilter longarm quilting machines. User-friendly and simple to operate, the step-by-step process for each function is easy to master and fun to do. Whether you are considering a quilting business or simply want to finish your own quilts, come see the elegant and precise quilting you can accomplish with an HQ Pro-Stitcher!
Thursday, November 2nd – 9 a.m. to 12 noon and 1 p.m. to 4 p.m.
Topics include:
1) Overview of menu and basic functions
2) Working with built-in designs; importing, saving and customizing designs
3) Resizing and repeating a design to fit a specific area
4) Handling thread breaks
5) Creating, cropping and nesting edge-to-edge designs
This class will be &90.00
MOVING ON WITH THE HQ PRO-STITCHER
This class is an extension of the basic Introduction to the HQ Pro-Stitcher. Focused on additional functions of the HQ Pro-Stitcher, beyond the basics, this class also focuses on problem solving issues encountered. Tips and shortcuts for using the many features and functions of the HQ Pro-Stitcher program will be included.
Friday, November 3rd – 9 a.m. to 12 noon and 1 p.m. to 4 p.m.
Topics include:
1) Placing borders, corners, and triangles
2) Skew 1 and Skew 2
3) Chunking
4) Wrapping and off-setting edge-to-edge designs
5) Simulation
This class will be $90.00.
As an add-on we will offer Art & Stitch Class on Saturday, November 4th – 9 a.m. to 1 p.m. for $70.00. If you take this Art & Stitch Class you will need to bring a laptop computer (with a mouse) loaded with the latest version of Art & Stitch available at http://artandstitch.com/. This is a free download and fully functional and does not need to be activated however without activation you will not be able to save your work.
If you take all three classes, the discounted total will be $235.00. We are filling spots fast so please call the store to reserve your spot today.
Linda will also be teaching a Superior Threadology class on November 1st from 5:30 p.m. to 8:30 p.m. here in our classroom. The cost is $20.00. This will be an interactive, hands on workshop guided by Linda. Students will have the opportunity to explore and use a variety of Superior Threads. We are limited to 20 students and you MUST pre-register. This is an intermediate to advanced class. Students need a sewing machine capable of free motion quilting and a zigzag foot. Students must also know their machine.
Call the store to register. You won't want to miss this one.
Check out Facebook for new pictures. We are also on Instagram under Sharynn Patterson. Watch these social media sites for updates!
UPCOMING EVENTS:
October 11th – Embroidery Class
1) Embroidery Hoop 5x7
2) White, Black, Orange, light Blue, and medium Blue Embroidery thread. Regular white thread is also used in this project.
3) Kimberbell Fabric Tape
October 14th – Sharynn's Stitchin' Friends 9a.m.
October 25th – Sit 'n' Sew here in our classroom. 1:30 p.m. to 4:30 p.m.
November 30th thru December 2nd – Second Annual 4 County Holiday Shop Hop. Passports are on sale now. This is the Gingerbread Run!!
Keep checking the website/newsletter for more details.