Newsletter October 10th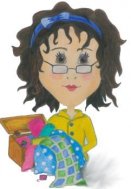 SHARYNN'S QUILT BOX
890 S. STATE STREET
P.O. BOX 1041
NORTH VERNON, IN 47265
812-346-4731
If you are like us, you are so busy! But never too busy to sew! Fall is upon us and we have lots of Fall projects in the shop just waiting for you! Table runners, bench pillows, throws, and lots more are just so pretty in yellows, oranges, browns, and greens. Come and see what kind of inspiration you will come up with.
ATTENTION EMBROIDERY CLASS MEMBERS!!
Our classes are tomorrow 9 a.m. to 12 p.m. and 1 p.m. to 3 p.m. here in our classroom.
Here is what you will need to bring:
1) Your embroidery machine (no need to bring a regular machine)
2) Embroidery hoop 5x7
3) White, Black, Orange, Light Blue and Medium Blue embroidery thread. You will also need regular white sewing machine thread.
4) Kimberbell Fabric Tape
5) Stabilizer – cut away
If you have any questions, please call the shop.
Beginning today (October 10, 2017), ACCUQUILT GO! BIG Electric Fabric Cutter is on sale! This machine is fast, easy & fully automatic. You will save $50.00 but this sale is only until 10/16. It makes cutting your quilts so much easier. The GO! BIG is compatible with all GO! dies. Come in for a demo. Now is the time to get it for Christmas!
Have you been in to see all the new machines we have?? Now is the time to get your "order in with Santa!" Be sure to pick out which one you want and then whisper in his ear!
We have the newest top of the line in Embroidery Machines the MC15000 Quilt Maker. This machine is so awesome and you'll love the way it sews.
We have the MC6700P. This machine is High Performance and has a faster speed. Lots of different features including a 10" throat. This machine has all new LED lighting – no shadows! Come and take a look!
We have the new 4120 Blue. We love the 4120 Blue. This little machine maybe little in size but it is mighty. This machine has 120 decorative stitches, 7 one-step buttonholes, memorized needle up/down, needle threader, and scissors.
We have a machine to suit everyone's needs. We are "can-do" sewing experts and we are eager to share our knowledge with you our valued customer.
Janome helps you do more of what you love!!
We will be offering four (4) days of classes with Linda Gosselin, Handi-Quilter National Educator, Art & Stitch Certified Instructor and Superior Threadologist. She will be here from November 1st thru November 4th. You must sign up for these classes. The Wednesday evening class is $20.00 but the Wednesday thru Saturday classes will be $90.00 or $235.00 for all three. Please go to our website to read all the info.
Linda will be teaching a Superior Threadology Class on November 1st from 5:30 to 8:30p.m. The cost of this class is $20.00. This is an interactive, hands on workshop guided by Linda. Students will have the opportunity to explore and use a variety of Superior Threads. Students must have a machine capable of free motion quilting and a zig-zag foot and be familiar with their machine. This is an intermediate to advanced class.
Each student will receive:
1) Educational DVD
2) Pack of 5 titanium-coated Superior Topstitch needles in assorted sizes
3) Two pre-made sewing blocks to use in the class
4) Color guide and reference guide
Be sure to get in on this class….space is limited.
Be sure to check out our website: www.sharynn's.