Newsletter October 12th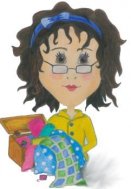 SHARYNN'S QUILT BOX
890 S. STATE STREET
P. O. BOX 1041
NORTH VERNON, IN 47265
812-346-4731
Just a reminder to all Handi-Quilter Owners…..about 2 weeks left to sign up for the classes that we will be having here in the shop with Linda Gosselin, HQ National Educator, Art & Stitch Certified Instructor and Superior Threadologist. The dates are November 2, 3, & 4. If you are thinking that you want in on these classes, please call asap as space is limited.
Thursday, November 2nd - 9 to noon and 1 to 4.
Introduction and upgrade to the HQ Pro Stitcher:
Topics include:
1) Overview of menu and basic functions
2) Working with built-in designs; importing, saving and customizing designs
3) Resizing and repeating a design to fit a specific area
4) Handling thread breaks
5) Creating, cropping and nesting edge-to-edge designs
This class will be $90.00.
Friday, November 3rd – 9-noon and 1-4
Moving on with the HQ Pro-Stitcher
Topics include:
1) Placing borders, corners, and triangles
2) Skew 1 and Skew 2
3) Chunking
4) Wrapping and off-setting edge-to-edge designs
5) Simulation
This class will be $90.
Saturday, November 4th-9-1
This will be an Art & Stitch Class. This class is $70. If you take this class you will need to bring a laptop computer (with a mouse) loaded with the latest version of Art & Stitch. This is available at http://artandstitch.com/. This is a free download and fully functional and does not need to be activated however without activation you will not be able to save your work.
If you take all three classes, the discounted price will be $235.00 Spots are filling so please call soon to reserve your spot. You don't want to miss these classes.
Linda will also teach a Superior Threadololgy class on November 1st from 5:30 to 8:30p.m. This will be a hands on workshop. You will have the opportunity to explore and use a variety of Superior Threads. We again are limited to 20 people and you must pre-register. You will need a machine capable of free motion quilting and a zig-zag foot. You must be familiar with your machine. This class will be $20.00.
Check out our website for more info: www.sharynns.com.
Our 2017 4 County Holiday Shop Hop is approaching quickly! Our theme this year is the Gingerbread Run. Dates are November 30, December 1 & 2. Passports are now available for $5.00.
Our Charity Project this Christmas will be Mercy Rescue and Adoption. For a donation of $2.00, you will receive a "grab bag" of fabric! ALL the money will be donated to Mercy Rescue. There are only so many bags of fabric so get in early to get yours! The project will begin next Friday, October 20th.