Newsletter October 18th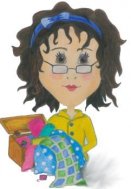 SHARYNN'S QUILT BOX
890 S. STATE STREET
P.O. BOX 1041
NORTH VERNON, IN 47265
812-346-4731
We are already into the middle of October. If you are interested in the Handi-Quilter Classes, you have about 10 days to sign up. Spaces are limited so please call the store to reserve your space. You can find all the information at www.sharynns.com. These classes are taught by Linda Gosselin, HQ National Educator, Art & Stitch Certified Instructor and Certified Threadologist. The dates are November 1st, 2nd, 3rd and 4th. Take one or take them all!!
Also, this Friday, October 20th we will begin our Christmas Charity Project here at Sharynn's. This year our Charity will be Mercy Rescue and Adoption. For a donation of $2.00 (all of which goes to the Charity) you can pick a grab bag of fabric. We don't have an great many of the grab bags so get in and get yours early.
Our Second Annual 4 County Holiday Shop Hop will be November 30th, December 1st and December 2nd. Our theme this year is The Gingerbread Run. Passports are available now in each participating shop and will include a coordinating applique pattern. Passports are $5.00 prior to the start of the Shop Hop and $6.00 after the start. If you turn in your completed passport you will be eligible for the Grand Prize of 4 - $50.00 gift certificates! Each shop will have a drawing for a gift basket worth $100.00.
Shops participating are:
1) Tree City Stitches – Decatur County
2) Sharynn's Quilt Box – Jennings County
3) Quilter's Nook – Ripley County
4) In Stitches – Rush County
Be sure to mark your calendar for this Shop Hop. We had so much fun last year and we are looking forward to seeing you all. We here at Sharynn's will also have an Open House on December 2nd. We are planning lots of fun!
With Christmas just around the corner and as sewists, we have projects that we want to make. Maybe it is a table runner for our Holiday meals. Maybe it is gifts for family, neighbors or friends. We have lots of patterns in stock and Christmas fabric that is just so beautiful. We have received Maywood Studios "Jingle All The Way" for Kimberbell. This fabric is so much fun! Be sure to check it out.
Another "mark your calendar" event is Janome's Blow-Out Sale to begin October 24th. We will get you more details as they become available to us! This will be a great opportunity to get that machine that you've been wanting at great savings.
We have the new MC15000, the new MC6700P, the new 4120(B) and we have the M7200 back in stock. These are all great machines along with wonderful embroidery machines and just sewing machines. Remember, Janome helps you do more of what you love!!
Our October Sit 'n' Sew will be on Wednesday, the 25th. You can sew from 1 p.m. to 4 p.m. If any members of the Embroidery Class were unable to attend the last class and want to make it up, you can come to this Sit 'n' Sew and we'll help you get the project made.
ACCUQUILT SALE!!
Accuquilt GO! Dies overstock sale…..up to 50% off on select GO! dies in stock only and while quantities last. Dies that are on sale will be marked. Be sure to get that one that you've wanted!
The Accuquilt GO! Qube Specialty Set by Edyta Sitar is on sale and you will save $60.00. These sales will end on October 31st. So come in and them while they last.
And if you don't own an Accuquilt Cutter come in for a demo. We have 3 sizes and one is just right for you. These cutters are accurate and save your hand, arm and shoulder when cutting with a rotary cutter. Right out of the box, you will be able to get started on that quilt you've been wanting to make.
Be sure to check out our FaceBook page. Like and share with your friends!