Newsletter December 6th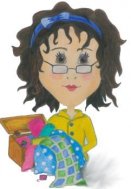 SHARYNN'S QUILT BOX
890 S. STATE STREET
P.O. BOX 1041
NORTH VERNON, IN 47265
812-346-4731
We want to thank everyone who came to the 2nd Annual 4 County Holiday Shop Hop – The Gingerbread Run! We had so much fun meeting and greeting each and every one who came.
Here are the individual winners from each shop:
Tree City Stitches – Karen Norton from Cambridge City, In.
The Quilter's Nook – Rita Holverson – Seymour, In.
In Stitches – Christina Sutton – Aurora, In.
Sharynn's Quilt Box – Debbie Eide – Lawrenceburg, In.
The over all Grand Prize winner is June Goode of New Whiteland, In.
Again thanks to everyone who stopped in our shop! We love having you!
ACCUQUILT CUTTERS & DIES are on SALE!! Have you been wanting one of these great "machines"? We've got them and they are on sale. Come in and see what they can do. The cuts are precise and accurate. The GO! CUTTER BIG is on sale for $449.99 after $50.00 rebate. This one is electric. It can handle 2 dies at a time.
The Specialty Set includes the GO! Cutter, 8" Mix & Match Qube, 2 ½" Strip Die and Mat and Eleanor Burns' new book all priced at $349.99! This is a big savings over buying them separately. And we all like to save money at this time of the year! Just think with your savings on this you can buy more dies!!
The GO! Qube Specialty Set Serendipity by Edyta Sitar is on sale for $169.99. This is a savings of $60.00.
All Dies are on sale also. Dies from $24.99 to $49.99 are on sale for $5.00 off. All Dies from $59.99 and up are $10.00.
These prices are good as long as supplies last or December 31st.
Our Janome BLOW-OUT SALE is still going on. We have a good selection in stock so come in and get yours! Remember we do our service here in shop.
We have the new Memory Craft 15000 Quilt Maker that will have you wanting to embroider everything! This machine has 1000 built in designs, is WI-FI certified, has LED lighting, an 11" throat, and comes with thread and rulers. This machine has so many features and is on very special pricing. You will fall in love with this one!
We also have the new Memory Craft 6700P. This machine is a workhorse and also has an 11" throat with LED lighting. Lots of stitches and features that you just have to see to believe.
Is a longarm quilt machine on your Christmas List? We got them too! Darrell has the Handi-Quilter Avante at a very special price. This is our demo model. He can save you thousands and you'll have the machine you've always wanted. Set up and instruction in your home is free.
We also have the New Handi-Quilter AMARA. This is Handi-Quilter's newest model. It has lots of features that will have you inspired to do more.
Sharynn's Stitching Friends will meet this Satruday, December 9th at 9 a.m. here at the shop for our annual Christmas party.
There will be NO EMBROIDERY CLASS in December. We will resume in January. If you missed a class and you want to make it, on Wednesday, December 13th you can come in and we will help you get it done. Please call to let us know that you will be attending.