Skip Navigation
Website Accessibility
Newsletter December 20th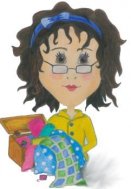 SHARYNN'S QUILT BOX
890 S. STATE STREET
P.O. BOX 1041
NORTH VERNON, IN 47265
812-346-4731
IT'S YEAR END SALE TIME!! SEWING MACHINES, GO! CUTTERS, DIES, AND CHRISTMAS FABRIC!!
That sewing machine you've been eyeing is on SALE!! These prices are the best we've had all year. We now have financing on machines priced over $3000.00. This is your chance to get one of the "biggies" with financing! You don't want to miss this one.
But if you aren't looking for a "biggie", here's a great deal….the M7200, 4120QDC, & Anna Maria Horner M100 are on special for $699.00. These are awesome "lightweight" machines. By lightweight we are talking weight. These machines are great for taking to retreats, classes, guild meetings, etc. The Janome 3160QDC is on special for $599.00. These prices won't last long. So come in asap to get yours.
Remember that we service what we sell here in our store. Darrell has many years of education to service your machines.
Sharynn's Quilt Box is a Signure Accuquilt GO! Cutter Dealer. We have sales going on now for these wonderful, accurate cutters. These will cut your fabric cutting time in half. You can cut up to 6 layers of cotton fabric at a time. There are thousands of possibilities with the dies. Come in a check out these deals. The GO! BIG Cutter is on sale for $449.99 after $50.00 rebate. Dies priced from $24.99 to $49.99 are $5.00 off and dies priced from $59.99 and up are $10.00 off. And there is the Specialty Set (GO! Cutter, 8" Qube, 2 ½" Strip die & mat, 8" Mix & Match Block, & Eleanor Burns' New book) for $349.99. Compare to regular price of $557.00 if purchased separately. This is an awesome deal on this ultimate fabric cutting system.
Come in and explore the world of Janome Sewing Machines and Accuquilt GO! Cutters!
ALL CHRISTMAS FABRIC is on 20% off from now until December 23rd at closing time. Just in time to whip up some small project or save for a larger project to work on next year.
Handi-Quilters are also on sale! Is a long-arm quilting machine on your Christmas list? Darrell can help you get set up and ready to start quilting your own quilts! We have several different models and one just right for your needs. We offer classes twice a year.
Mark your calendars for April 26th, 27th, & 28th 2018. Susan Jungerheld will be here for a Handi-Quilter class. More information will be forth coming in the next several weeks.
We will be open until 3 p.m. on December 23rd. We will reopen on January 2nd at our regular time of 10a.m. We will be closed for inventory. Sorry for any inconvenience.
Thank you all for your continued patronage! More and better things to come in 2018!!
MERRY CHRISTMAS AND HAPPY NEW YEAR!