Newsletter January 3rd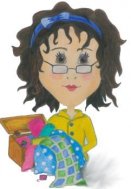 SHARYNN'S QUILT BOX
890 S. STATE STREET
P.O. BOX 1041
NORTH VERNON, IN 47265
812-346-4731
WELCOME TO 2018 AT SHARYNN'S QUILT BOX!!!! Since we are in the deep freeze, it's a great time to begin some of those projects you want to complete or start! Let's start off the New Year with a Sit 'n' Sew on January 31st from 1 p.m. to 4 p.m. Our Sit 'n' Sew is FREE!! Just come in and get started! We are planning lots of fun things for this year. Our Sit 'n' Sews are just the beginning!!
Sharynn's Stitching Friends meet the 2nd Saturday of each month beginning with the first one on January 13th at 9 a.m. Even if you've never been to a meeting before, you can come and join that day. As a member you get to see all the new fabrics, rulers, etc. and there is a demo of a product. There is also Show 'n' Tell. Lots of beautiful projects are shown by our talented members. So come and join in the fun.
For those of you who have an embroidery machine, we have an embroidery class. Each month is a different project that is done in class and we help you as you go. Our first class was scheduled for January 10th but do to circumstances beyond our control, we will have to cancel that class. We will begin on February 14th. Thank you for understanding.
Other upcoming events:
The Charming Shop Hop in March. More details as we get them.
For you Handi-Quilters a class in April. More details will be forth coming.
Watch the newsletter for a BIG SALE coming soon also. Doing inventory we found lots of goodies!!
Did you get a new Janome sewing machine for Christmas? We can help you get started. And if you didn't get one, we still have a few of our machines on sale. Come check them out!
Sharynn's Quilt Box is a Signature Dealer for ACCUQUILT GO! CUTTERS. The January Sales Event includes up to 40% off select GO! Dies (in-stock only. Limited quantities). Save $200.00 on the Ready. Set. Go! Ultimate Fabric Cutting System. Only $349.99. If products were purchased separately you could spend $557.89! This is a great system. And we are selling lots of them. Get yours today!!!
Also, save $30.00 on the GO! BABY FABRIC CUTTING STARTER SET. The sale on the Baby Fabric Cutting set is valid only until 1/18/18.
Stay warm and be sure to stop in to see us soon!!