Newsletter January 18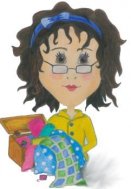 SHARYNN'S QUILT BOX
890 S. STATE STREET
P.O. BOX 1041
NORTH VERNON, IN 47265
812-346-4731
We have been doing some planning for classes and other surprises! So keep watching the newsletter for more info on all these things. We have new fabric coming in and will soon be putting it on the shelves.
OK, mark your calendars!! January 30th thru February 3rd…..BIG SALE!! We will be giving you more information each week about the specifics of the sale. So be watching for it!!
On these cold, blustery days wouldn't it be nice to cuddle up under a warm flannel throw that you made? We have lots of wonderfully warm and cuddly flannels to help with this project. There are great patterns to help with this too. And you can make it big enough to go on your bed too!
Did you get a new Janome machine for Christmas? If you did, congratulations!! You are now the owner of the best sewing machine! Please make sure that you read the manual and if a DVD came with your machine, please watch it. If you have any questions, please call us. We'll be happy to help you get started. We also have a full line of extra feet, bobbins, needles, and other parts that you may want or need.
Do you need a "rolling case" for this new machine? We can help you with that too! These cases are almost a necessity when taking a machine anywhere. Come see us and we'll help you get the case you need for your machine.
We will still be having Sit 'n' Sew on January 31st from 1-4 p.m. This is free and we love having you. So come sew with us!
Sharynn's Quilt Box is a Signature Dealer for Accuquilt GO! Cutters. The January Sales Event includes up to 40% off select GO! Dies (in stock only and limited quantities). Save $200.00 on the Ready. Set. GO! Ultimate Fabric Cutting System. This system is on sale $349.99. If you purchased these separately you could spend up to $557.89!! This is a great system and an awesome price. You get the GO! Fabric Cutter, GO! Qube 8" Block set, GO! Qube book by Eleanor Burns, GO! 2 ½" strip die, & 10"x24" cutting mat, die pick, user manual and GO! Qube DVD.
With the 8" Block set you can create 72 different block designs. Think of the possibilities.
Some notes:
The Charming Shop Hop will be April 4, 5, 6, & 7, 2018. Mark your calendars
The Handi-Quilter Class scheduled for April was also scheduled for this same weekend. So we are rescheduling the Handi-Quiler Class for August. Please keep watching the newsletter for updates.
Our Embroidery Class will resume on February 14th.
Sharynn's Stitching Friends will meet on February 10th. There will be some surprises at this meeting. Even if you aren't a member, you can join that day or any day up to then.