Newsletter January 25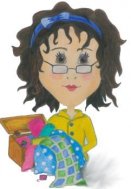 SHARYNN'S QUILT BOX
890 S. STATE STREET
P.O. BOX 1041
NORTH VERNON, IN 47265
812-346-4731
SALE! SALE! SALE! SALE! SALE! SALE! SALE! SALE! SALE! SALE! SALE!
January 30th to February 3rd!!! Everything in the store is 25% off! All fabric, notions, books, patterns, threads, machine feet, and fabric on the sale shelves! Janome machines (in stock only) will be again be on BLOW OUT pricing!! ACCUQUILT GO! CUTTERS Fabric dies (selected ones) will be 40% off. Ready. Set. Go! Ultimate Fabric Cutting System is still on special at $349.99. This is a $200.00 savings. Don't miss this sale….we still have lots of winter left and lot of time for sewing!!
SALE! SALE! SALE! SALE! SALE! SALE! SALE! SALE! SALE! SALE! SALE!
We have a new class forming….Necktie Bookshelf Wall Quilt 24"x36". This will be a 2 session class with the first session on February 27th and the second session on March 6th. There will be day and evening classes. The cost will be $30.00. Mrs. Carol Sargent will be teaching this class. We are very excited to have Carol to teach here at Sharynn's. Please call to get in on this awesome class. And start looking thru your dad's, husband's, grandfather's, boyfriend's or scour the used clothing stores and get those ties!
Embroidery Class will resume on February 14th and we'll send out more info on what is needed closer to time. Be sure to put it on your calendar.
Sharynn's Stitching Friends will meet at 9 a.m. on February 10th. If you would like to join just come in either before the meeting or the day of the meeting. We introduce new products, new patterns, have demos, and show 'n' tell. We have some fun new things to introduce this year and we are hoping you will like them. The cost of membership is $15.00.
The Charming Shop Hop will be April 4, 5, 6, & 7. Passports will go on sale February 1st.
Shops participating are:
1) Tree City Stitches, Greensburg, In
2) Margie's Country Store, Madison, In
3) L & L Yard Goods, Madison, In
4) Quilter's Nook, Versailles, In
5) Sharynn's Quilt Box, North Vernon, In
6) Cabin Arts, Burlington, Ky
7) The Quilt Box, Dry Ridge, Ky
8) Quilters Garden, Lawrenceburg, In
We now have Tutto sewing machine rolling carts. These are for the large & extra large machines. Come in and check them out. We have black, red and purple.
We will still have our January 31st Sit 'n' Sew for everyone. There is no cost to you for this. So come in and spend the afternoon sewing with us. Mark your calendar!