Newsletter June 5th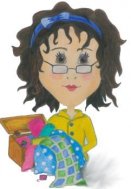 SHARYNN'S QUILT BOX
890 S. STATE STREET
P.O. BOX 1041
NORTH VERNON, IN 47265
812-346-4731
We hope that you are enjoying your summer weather! I don't think we had Spring this year!
Here at Sharynn's we are getting ready for our 13th Annual Southern Indiana Helping Hands Shop Hop. It begins June 20th and continues thru June 23rd. We have lots of prizes, lots of "gadgets", patterns, new fabric and patterns to pique your interest. Passports are on sale now and are $5.00. They will be $6.00 beginning on the day of the Shop Hop. Each of the 9 shops will have a different quilt and pattern for their block. The block kit fee is $5.00. The fabric is from Henry Glass and designed by Kim Diehl called Helping Hands.
Be sure to come and join us for lots of fun.
We are receiving new fabric daily!! Halloween and Christmas are just blowing us away with all the great fabric colors and designs. You have to see these in person to believe it.
We have received the new Quilters' Travel Companion & Crafters' Guide. This is a great companion when traveling the United States and Canada to find the best quilt shops! Sharynn's is listed on page 139!!!
We have several new dies for the Accuquilt Cutters. These cutters make cutting quilt blocks so much easier. Come in for a demo.
We are again moving the date of the Embroidery Class! We apologize for the inconvenience but there is a conflict in scheduling. Please bear with us. This will be an informational meeting only and no sewing machines are required. If you are a new owner of an embroidery machine this class is for you! You will learn many different techniques and applications for use with your machines. Come and join us.
Artistic Digitizer from Janome for MAC or Windows is here. The all new Artistic Digitizer software unites numerous applications in one powerful solution, giving embroidery and crafting enthusiasts every tool they need to successfully achieve their creative goals. The simple but intelligent interface has been designed for use on a range of devices such as a desktop computers, notebooks, or tablets with commonality between Windows and MAC operating systems.
We will be offering Handi-Quilter continuing education classes in August. Diane Henry, National Educator for Handi-Quilter has years of experience and will be teaching these classes here at Sharynn's Quilt Box. The dates are August 16th thru August 18th.
There will be a preview night on Wednesday, August 15th. Diane and Darrell will be available to show you what you can do with a Handi-Quilter longarm quilting machine. The possibilities are endless!! And so much fun! Come and try one on for size!!
Please check the website, www.sharynns.com for more information on this event.
UP-COMING EVENTS:
June 9th…….Sharynn's Stitching Friends…9 a.m. Lots of fun, food, and fellowship! Come join us!
June 20th thru 23rd ……..Southern Indiana Helping Hands Shop Hop
July 18th …….Embroidery Class. Informational and begins at 1 p.m.