Newsletter June 7th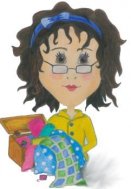 SHARYNN'S QUILT BOX
890 S. STATE STREE
P.O. BOX 1041
NORTH VERNON, IN 47265
812-346-4731
Well, this week it's all about the 13th Annual Southern Indiana "Helping Hands" Shop Hop! We are excited and working feverishly to get everything ready for our hoppers! Our quilt is ready to be quilted and hung. And we love it! Patterns and finishing kits will be available.
It begins Wednesday, June 20th and continues thru Saturday, June 23rd. Hours are 9 a.m. to 6 p.m. each day.
There are lots of prizes: Grand Prize is a sewing machine..a Baby Lock from Let's Sew or Janome 3120QDC(B) from Sharynn's Quilt Box. Other prizes include: Fat Quarter Collection – 90 pieces; 9 individual $50.00 Gift Certificates; and each shop will also give away a Gift Basket valued at $100.00.
Passports are available for $5.00 thru June 19th (during the shop hop: $6.00).
Each hopper with a passport may purchase a block kit from each shop visited. Each block kit fee is $5.00. And each shop has a unique way of putting the quilt together. Finishing patterns and kits will be available.
There are 9 shops:
1) The Village Mercantile (central time zone)-Boonville
2) Scrappy Patches-Brownstown
3) Quilters Corner Cottage-Charlestown
4) The Quilting Bee-Edwardsville
5) Let's Sew (central time zone)-Evansville
6) Margie's Country Store-Madison
7) L & L Yard Goods-Madison
8) Sharynn's Quilt Box-North Vernon
9) The Stitching Post-Washington
Also, during the Shop Hop Jim Stohr will be in our shop on Friday, June 22nd to sharpen scissors, knives, etc.
Be sure to join in all the fun!!
We are receiving new fabric daily!! The Swell Christmas Quilt Kits from Moda are so pretty. The kit includes all fabric for the quilt and bonus projects to boot! And we have the coordinating fabric.
We also have received "Once Upon a Memory" Quilt Kit from Moda by Holly Taylor.
"Holiday Wishes" by Henry Glass is also here! This is the "red truck" fabric that has been so popular.
Artistic Digitizer from Janome for MAC or Windows is here! The all new Artistic Digitizer software unites numerous applications in on powerful solution, giving embroidery and crafting enthusiasts every tool they need to successfully achieve their creative goals. The simple but intelligent interface has been designed for use on a range of devices such as a desktop computers, notebooks, or tablets with commonality between Windows and MAC operating systems.
Be sure to save the dates of August 16th thru August 18th! Diane Henry, National Educator for Handi-Quilter has years of experience and will be teaching these classes here at Sharynn's Quilt Box. Be sure to check the website for more information: www.shayrnns.com. There is a fee for these classes.
We will also have an Open House and Preview Night on Wednesday, August 15th. Refreshments will be served. This Preview Night is free! You do not have to own a quilting machine to attend any of these events. Diane and Darrell will be available to show you what you can do with a Handi-Quilter longarm quilting machine. The possibilities are endless! And so much fun. So come and join us.