Newsletter June 19th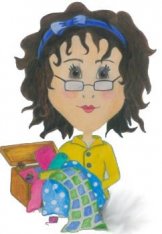 SHARYNN'S QUILT BOX
890 S. STATE STREET
P.O. BOX 1041
NORTH VERNON, IN 47265
812-346-4731
The 13th Annual Southern Indiana "Helping Hands" Shop Hop begins tomorrow (June 20th) and continues thru Saturday, June 23rd. We are about ready but we have a few final "touches" to finish and we are working on those today!
We will open at 9 a.m. and close at 6 p.m. each day. Check out FaceBook for pictures of our quilt. Of course, we love it!! Patterns are free and our block kits are ($5.00).
There are lots of prizes. The Grand Prize is a sewing machine either a Baby Lock from Let's Sew or Janome 3120QDC(B) from Sharynn's Quilt Box. Other prizes include: Fat Quarter Collection-90 pieces; 9 individual $50.00 gift certificates; and each shop will also give away a Gift Basket valued at $100.00.
Passports are still available but beginning tomorrow they will be $6.00 each.
Also on June 22nd, Jim Stohr will be in our shop to sharpen scissors, knives, etc. So be sure to join in the fun!!
Be sure to save the dates of August 16th thru August 18th! Diane Henry, National Educator of Handi-Quilter will be here at Sharynn's to teach 5 classes on long-arm quilting. Thursday, August 16th (morning and afternoon classes) will be Stand-up Longarm Machine Quilting. Friday, August 17th morning class will be Fast, Fun, and Fabulous Free Motion quilting. The afternoon class will be Ruler Essentials. Saturday, August 18th morning class will be Creative Textures and Fills. The afternoon class will be You Can Do That on a Longarm! Please call the shop as class sizes are limited.
There will be a Preview Night and Open House on Wednesday, August 15th at 6p.m. with light refreshments. (This is free!) You can come and see what a longarm quilting machine can do. Diane and Darrell will be available to show you what you can accomplish with a Handi-Quilter Longarm. Be sure to come and join us for the evening.
Mark your calendars for these up-coming events:
1) July 10th – Double Feathered Star paper piecing class
2) July 14th – Sharynn's Stitching Friends
3) July 18th—Embroidery Class