Skip Navigation
Website Accessibility
Newsletter June 27th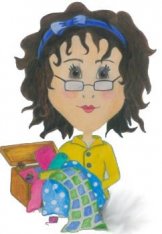 SHARYNN'S QUILT BOX
890 S. STATE STREET
P.O. BOX 1041
NORTH VERNON, IN 47265
812-346-4731
Another wonderful Shop Hop with all you awesome customers is over. We had such a great time and enjoyed everyone who came to see us!! We were very busy and of course, we loved every minute of it! Now be sure to use your 20% off coupon and come see us again.
We still have our block kit and pattern available for purchase.
Here are the winners: Liz Conner of Boonville, IN won her choice of a sewing machine. We have received Liz's call that she has selected the Janome 3160 QDC(B). Congratulations to all of our great shop hop winners!
90 Fat Quarters: Virgia Hendrick of Frankton, IN
$50.00 Gift Certificates:
Peggy Thomas – Scrappy Patches
Sharon Whartenby – L&L
Pat Overman – Margie's
Vivian McCauley – Sharynn's
Beth Tooke – Village Mercantile
Chrissey Cougar – Stitching Post
Donna Small – Quilting Bee
Mary Beth Sisco – Quilters Cottage
Rachael Lubker – Let's Sew
Shop Gift Baskets:
Katie Cunningham – Scrappy Patches
Janet Ferguson – L&L
Janice Harrell – Margie's
Starr Burke – Sharynn's Quilt Box
Dora Wampler – Let's Sew
Donna Kramer – Village Mercantile
Skyla Thomas – Stitching Post
Marci Clark – Quilting Bee
Pam Gholson – Quilter's Cottage
We are so happy to see so many of the winners from our area here! We are looking forward to next year!
We will be closed July 4th.
We have received lots of new Halloween and Christmas fabric! We have Kimberbell's BroomHilda's Bakery line of fabric that is just right for Halloween decorating!
We have Moda's Swell Christmas line of fabric. This fabric has a '30's look to it. And we are in love with the Santa!!
"Holiday Wishes" by Henry Glass is also here! This is the "red truck" line of fabric that has been so popular. It's selling like crazy!!
SAVE THE DATES: August 16th thru August 18th! Diane Henry, National Educator with Handi-Quilter Longarm Machines will be here at Sharynn's to teach 5 classes on longarm quilting. All classes are 3 hours long.
For more information on these classes, please check out the website…www.sharynns.com. We will have a Preview Night and Open House on Wednesday, August 15th at 6 p.m. with light refreshments. (This event is free.) You can come and see what a longarm quilting machine can do! You will be amazed. Diane and Darrell will be available to show you what you can accomplish with a Handi-Quilter Longarm. Be sure to mark your calendar so you don't miss this great event.
There is a new Ruler of The Month Club beginning in July and continuing thru December, 2018. Call the shop for more info! These are very popular.
UPCOMING EVENTS:
July 4th: Closed
July 10th: Double Feathered Star Class – 1-3p.m.
July 14th: Sharynn's Stitching Friends – 9 a.m.
July 18th: Embroidery Class 1p.m. Informational only.
July 24th: Double Feathered Star Class – 1-3p.m.