Newsletter July 5th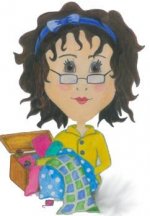 SHARYNN'S QUILT BOX
890 S. STATE STREET
P.O. BOX 1041
NORTH VERNON, IN 47265
812-346-4731
HAPPY 4TH OF JULY!!!!! We have so many "things" to be thankful for in this great country of ours. When you celebrate, please remember that our freedoms were and are not free. And be careful when you celebrate….we love all our customers and want to see you here in the shop!!
ACCUQUILT GO! CUTTERS are 10 years old!! And to celebrate that event, we have special dies on sale from now until July 31st. So be sure to check this sale out. The New Limited Edition 10th Anniversary 6"x12" GO! DIE STORAGE Box is here. This box will hold lots of dies and keep them organized for you.
Also, from July 1st thru July 18th the GO! BABY CUTTER is on sale for $99.99. That's a $30.00 savings. This is a handy "little" tool for all your cutting needs.
Beginning in September, we will be forming an ACCUQUILT CUTTER club. If you are interested in owning one come see us for more details. If you already own one but aren't sure how to use it, this club will help you with all those details. You will see how easy it is to "build" your quilt with very little effort in cutting out the blocks. And they will be accurate! We will do a pattern (free) each month!! We are planning some fun things that you can do with one of these cutters. We will have a date and time closer to September.
We have received lots of new fabric (it just keeps coming in!!). Some fall, some Halloween and lots of Christmas. Now is the time to begin those projects!
With this being July and having lots of fireworks, we are going to have a bit of "fireworks" here at the shop! We are "blowing out" the prices on our popular Skyline S7! So if you missed it the last time, it's here again! This is a very popular machine with lots of features. So come see it. The sale will begin July 10th! You will have the opportunity to sew on this great machine. So come give it a "test drive"!!
UP COMING EVENTS:
July 10th: Double Feathered Star paper piecing class – 1-3 p.m.
July 14th: Sharynn's Stitching Friends – 9 a.m.
July 18th: Informational Embroidery Class – 1-3 p.m.
July 24th: Double Feathered Star paper piecing class – 1-3 p.m.
July 25th: Sit 'n' Sew – 1-4 p.m.
We are working on a "sewing retreat" here at the shop. This would be on a Thursday, Friday and Saturday. We need your thoughts on this.
A gentle reminder, you have only 3 days to return a sewing machine after purchase. No sewing machine will be accepted after this time. Thank you.