Newsletter July 12th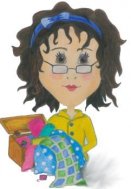 SHARYNN'S QUILT BOX
890 S. STATE STREET
P.O. BOX 1041
NORTH VERNON, IN 47265
812-346-4731
ACCUQUILT GO! CUTTERS are celebrating 10 years with a sale on selected dies and have limited edition dies from 10 years ago! For the whole month of July, we have dies on sale. Some are only on until July 18th but then there will be more on sale until the 31st! But only while supplies last. So come in and get them while they last.
Beginning in September, we will be forming an ACCUQUILT GO! CUTTER club. Do you own an Accuquilt Cutter? Are you interested in owning one? We have just what you need. This club will help you learn how to get the most out of your Accuquilt Cutter. We will help you learn how to use it, how to "build" your quilt using these dies and how easy it is to do. We will be doing a different pattern (free!) each month. We are planning some fun things to do and just in time for Christmas projects. We will have date/time closer to September.
Mark September 15th on your calendar!! We are celebrating Moda's Jelly Roll Day! Get your Jelly Rolls and come sew with us. We are having a party! There will be snacks, prizes, sewing and lots of fun for everyone! More to come!
We are still receiving lots of new fabric and we've added more bolts to the sale racks. Come see what's "new"!
It's Christmas in July here in the shop!! Get in on the "fireworks" as we "blow out" the price on our ever popular Janome Skyline S7! This is very popular machine with lots of features of the "big" ones but with a smaller price tag! Christmas isn't far off….you can "test" out this machine from now until the 31st of July at a rock bottom price.
We are working on a sewing retreat here at the shop. We are thinking of October. It would be on a Thursday, Friday, and Saturday . Come in tell us what you'd like us to do! We are limited on space but we are really looking forward to doing this for you!
Don't forget to register for the Handi-Quilter 3-day Education Event here in our shop August 16-18, 2018. Even if you don't own a Handi-Quilter you are welcome to take these classes. Diane Henry, National Handi-Quilter Educator will be here to teach these classes. There is an Open House/Preview Night on Wednesday, August 15th. This event is free. There is a charge for the classes. More information can be found on our website: www.sharynns.com.
It's not that far away and class size is limited. So register soon.
UP COMING EVENTS:
July 14th: Sharynn's Stitching Friends – 9 a.m.
July 18th: Informational Embroidery Class – 1-3 p.m.
July 24th: Double Feathered Star paper piecing class – 1-3 p.m.
July 25th: Sit 'n' Sew – 1-4 p.m.