Newsletter July 19th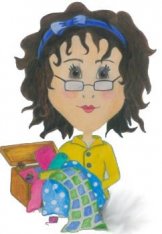 SHARYNN'S QUILT BOX
890 S. STATE STREET
P.O. BOX 1041
NORTH VERNON, IN 47265
812-346-4731
The celebration continues with discounts on more ACCUQUILT GO! CUTTER DIES! Lots more dies have been put on sale until the 31st of July. So come in now as supplies are limited.
Beginning in September, we will be forming an ACCUQUILT GO! CUTTER Club. These machines are 99% accurate and cut up to 6 layers of cotton fabric. This cuts down on your cutting time to make blocks for a quilt, which means more time to sew and make more quilts!! A win-win for you!! We have all the cutters in stock and we will demo them for you. This club will help you learn how to get the most from your cutter and help you "build" your block using these dies. We will be using a different pattern (free) each month. We are planning some fun things to do and just in time for Christmas!
Mark your calendar for September 8th! (we know, we said the 15th but changes happen!) We are celebrating Moda's Jelly Roll Day! Get your Jelly Rolls and come sew with us!! We are going to party! There will be snacks, prizes, lots of sewing and lots of fun. Check out Facebook for our pictures of all our Jelly Rolls!
We want to thank everyone who has taken the time to fill out our in-store survey. Your responses are helping us to have more fun things for you to do. If you haven't filled one out, just come in and ask for a form!
Our Sewing Retreat will be in October 19th and 20th! Times will be 8-9 on Friday and 8-3 on Saturday. We will be serving lunch. We will have limited seating and small machines are encouraged. But we want to have as many as possible. You will have to reserve a space. We will have the cost as soon as possible. We need a "ballpark" figure of the number of people. So call asap!!
Our Embroidery Class will begin meeting on August 8th. There is still space available for this class. If you have an embroidery machine, you can sign up for this class. We will be making a quilt. Call the shop, ask for Pat.
If you haven't already signed up for the Handi-Quilter Classes in August and you want to take these classes, please call the shop soon as space is filling fast and we are limited. Please go to our website: www.sharynns.com for more information.
UP COMING EVENTS:
July 24th: Double Feathered Star paper piecing class – 1-3 p.m.
July 25th: Sit 'n' Sew – 1-4 p.m.
August 11th: Sharynn's Stitching Friends – 9 a.m.
August 15, 16, 17 & 18: Handi-Quilter Classes