Newsletter July 25th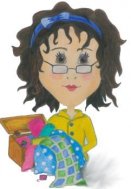 SHARYNN'S QUILT BOX
890 S. STATE STREET
P.O. BOX 1041
NORTH VERNON, IN 47265
812-346-4731
A reminder to all Handi-Quilter Longarm owners and anyone who wants to own one! Sharynn's Quilt Box is hosting a 3-day Handi-Quilter Hands-on Education Event! There is a Preview Night on Wednesday, August 15th from 6p.m. to 8p.m. Light refreshments will be served. (Reservations are needed for this event but it is free.) You will have the opportunity to talk with Diane Henry a Handi-Quilter Educator. Darrell will also be here to talk and demonstrate how easy the Handi-Quilter Longarm machines are to use.
Classes will begin on August 16th with a 3 hour morning class and a 3 hour afternoon class on Stand-Up Longarm Machine Quilting Basics.
August 17th is a 3 hour morning class on Fast, Fun and Fabulous Free Motion Quilting. The 3 hour afternoon class will cover Ruler Essentials.
August 18th is a 3 hour morning class on Creative Textures and Fills with the 3 hour afternoon class covering You Can Do That on a Longarm, Too??!!
For information on pricing and reservations, please call the shop (812-346-4731) to register. Space is limited. So call now so that you don't miss out on this great opportunity to learn from an expert!
Our next educational opportunity is in October. More information to come.
We have received more Christmas fabrics and Halloween fabrics! We are loving all the soft colors of the Christmas fabrics and the oranges, lime greens, purples and blacks of the Halloween! Check our Facebook page for pictures!
We are so excited about Moda's National Jelly Roll Day. We are celebrating on September 8th here at Sharynn's. We are going to party! So mark your calendar and don't miss out on all the fun. Reservations are required! So please call early to make sure you get a spot.
Also, in September, we will be forming an Accuquilt GO! Cutter Club. There will be a different pattern which is free to members each month and this will help you to learn and use your Cutter. Don't have one? Come in and see a demo. These are awesome machines with lots of dies to help you cut your quilt patterns accurately. And you can cut up to 6 layers of cotton fabric at a time. There are applique, alphabet, numbers, and lots of different quilt patterns that you can make. Again, reservations are required. Call early to reserve a spot.
Attention Embroidery Club Members:
Books have been ordered and you will receive a call to pick up as soon as they arrive in the shop. Time of the class is from 11a.m. to 2p.m. You are welcome to bring a brown bag lunch if you want.
Items that you will need for the first session:
1) at least a 5x7 hoop
2) white, black, light pink, and tan embroidery thread
3) embroidery scissors and white embroidery bobbin thread
4) tear-away stabilizer (a piece larger than 5x7)
5) water-soluble pen and tape
If you have questions, please call Pat or Sharynn.
OPPS!! Almost forgot…..ACCUQUILT GO! CUTTER DIES ARE STILL ON SALE!! Get 'em while we got 'em!