Newsletter August 22nd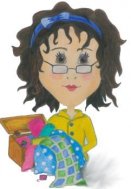 SHARYNN'S QUILT BOX
890 S. STATE STREET
P.O. BOX 1041
NORTH VERNON, IN 47265
812-346-4731
We want to thank everyone who came to the Handi-Quilter classes. It was so much fun and we enjoyed every one of you! We will be doing a Pro-Stitcher Class with Diane Henry in October. This will be two days of classes. Introduction to the HQ PRO-STITCHER will be all day on Friday, October 19th. PROGRESSIVE QUILTING WITH THE HQ PRO-STITCHER will be all day on Saturday, October 20th. Price for both days is $175.00. You will need a laptop/tablet. Times of classes are 9 a.m. to 12 noon and 1 p.m. to 4 p.m. both days. We'll have more info later.
ACCUQUILT GO! CUTTER SALE!!
Beginning today 8/21 until 8/29 you can buy any one GO! Die and get a second GO! DIE for 25% off. (There are exclusions!) Also, the Serendipity QUBE Specialty Set is on sale for $50.00 off. We have very limited quantities of these so don't wait if this is one you've been wanting.
We are at 2 weeks and counting until our Jelly Roll Day on Saturday, September 8th! We have received more Jelly Rolls and we are so excited for our Jelly Roll Day!! Are you signed up??? We are filling up so don't miss out. Grab a friend and spend the day sewing! The cost is $5.00. We will have snacks, prizes and lots of fun. So come join us for a great day of sewing. You can even sew in your pjs if you want! We will be doing the Great Jelly Roll Race!! So be sure to come in and reserve your spot and get that Jelly Roll. Check out FaceBook to see a picture of Sharynn with her Jelly Roll quilt.
Making a quilt with a Jelly Roll is just one thing that you can accomplish. You can make a rug, wall hanging, a throw, purse, and whatever you can imagine! We know that a lot of people have them but don't know exactly what to do with them. We have lots of patterns that will inspire you.
FOR EMBROIDERY CLUB MEMBERS:
Kits for the second set of blocks is ready for pick up if you want to cut your fabric ahead of the class. Our class date is September 12th 11-2 pm. When you cut your fabric, be sure to save all the "scraps" as they will be used later in the quilt.
Items to bring to class:
1) a 5x7 hoop
2) a roll of tear-away or at least 2 yards of stabilizer larger than the hoop. You will be doing a total of 5 blocks.
3) water-soluble pen
4) aqua, coral, black, red embroidery thread
5) small scissors for trimming fabrics
6) several embroidery thread filled bobbins
If you have any questions, please call Pat at the store.
A gentle reminder, ALL SPECIAL ORDERS must be paid for in advance. Sorry for any inconvenience.