Newsletter August 29th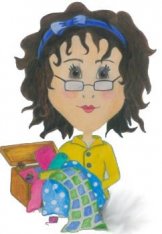 SHARYNN'S QUILT BOX
890 S. STATE STREET
P.O. BOX 1041
NORTH VERNON, IN 47265
812-346-4731
We are fast approaching Labor Day! We just don't know where the summer went! Now is the time when our thoughts turn to the up-coming holidays. We have received lots of new Fall and Christmas fabrics. There are so many beautiful fabrics that we can't decide which ones we like the best!
We have so many luscious new greens, creams, reds, and yes even blue for Christmas this year. We aren't sure where to start! I guess that is a happy thing…you can't go wrong!
We are beginning to come up with ideas for our 5-County Holiday Shop Hop that will be held November 29th, 30th & December 1st. This year we will feature the ever popular Snowman! Mark your calendar and we will have Passports soon. We also have a new shop! We'll bring you more info in the next newsletter.
We are sorry (but also very happy!) that our Jelly Roll Day is full! To everyone who is signed up, here are a few things you'll need to bring:
1) a small sewing machine
2) ruler, rotary cutter. There will be 2 places that you will be able to cut but try to have as much cut as possible before the class begins.
3) don't forget your cords and foot control!
4) filled bobbins!
If you have any questions, please call the shop!
For all Embroidery Club members:
If you can get into the shop before our next class, it would be helpful to you. Items you will need to bring:
1) a 5x7 hoop
2) white or black embroidery thread. This will be used to outline your design.
3) your choice of either aqua or coral embroidery thread to outline the finished kite.
4) red embroidery thread for the Ladybug design
5) tear-away stabilizer larger than your hoop
6) small scissors
Note from Sharynn & Pat…we have used the Kimberbell Orange POP Rulers and these are awesome!! It's so easy to square up your blocks. If you are interested in purchasing these rulers, please let Sharynn, Cathy, or Pat know. We will demo them in class.
Also, remember that all the fabric that you have left over will probably be used again in another part of the quilt. So don't throw away your scraps!!
We have received more Moda fabric and new Grunge colors. Be sure to watch Facebook for updates!
We want to wish everyone a very happy Labor Day! Be sure to be careful on the roads if you are traveling as we love all of our customers!!