Newsletter September 11th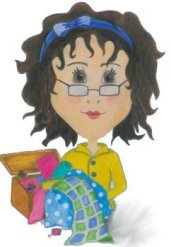 SHARYNN'S QUILT BOX
890 S. STATE STREET
P.O. BOX 1041
NORTH VERNON, IN 47265
812-347-4731
Summer is just about over and the weather has turned crisp and cool. The leaves are falling and it makes us want to bundle up in flannels! We have lots of new fabric in the fall colors that remind us of family gatherings. Do you need a table runner? What about placemats and napkins? We can help you with all of that and more.
A BIG thank you to all who came to our Jelly Roll Day!! We had so much fun and if you missed it, check out Facebook for all the pictures we took. Lots of beautiful quilt tops were put together!
We are putting together a UFO club. We are looking at either the first Saturday or the last Saturday of each month. It would be an "open" type of club and the hours would be 10 a.m. to 2:30 p.m. If you are interested, please call the store and get on the list. We have enough space for 18 people. We are excited and can't wait to begin this new adventure.
Tomorrow (September 12th) is Embroidery Class from 11-2. Please remember to bring:
1) a 5x7 hoop
2) white/black embroidery thread.
3) your choice of either aqua or coral embroidery thread
4) red embroidery thread
5) tear-away stabilizer larger than your hoop
6) small scissors
Class begins at 11. If you want to bring a brown bag lunch, that is no problem but please remember that no food is allowed "downstairs". We will demo the Orange POP rulers. We've used them and they are all that they tell us they are! If you are interested in purchasing these rulers, please remember that all special orders must be paid in advance. Thank you! We will also show you the Wooly Felted Ironing Mats. We have found these to be wonderful when ironing seams and getting FLAT embroidered blocks. We have one that can be used when you are here.
ACCUQUILT CUTTER SALES EVENT!
If you purchase a Ready. Set. GO! Ultimate Fabric Cutting System between now and the 19th of September you will receive a $30.00 rebate. (Form must be sent to the company for the rebate). This system is just awesome. Come in and we'll demo it for you. The possibilities are endless with this Cutter. So be sure to come in before the rebate expires.
We are making plans and getting everything ready for the 5-County Holiday Shop Hop-Snowman Shuffle-2018!! Dates are November 29, 30 and December 1st. Be sure to mark your calendars and get your passports. Lots of fun and prizes! More info to follow.