Newsletter September 13th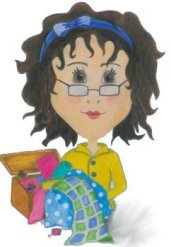 SHARYNN'S QUILT BOX
890 S. STATE STREET
P.O. BOX 1041
NORTH VERNON, IN 47265
812-346-4731
First, let me correct our phone number…it is 346-4731! I typed it wrong in the last newsletter! Sorry for any inconvenience!
Second, we have Bosal single sided light fusible fleece 1 ¾"x25 yds and Bosal Katahdin On-A-Roll 100% Organic Cotton (not fusible) 2 ¼"x50 yds for those Jelly Roll Rugs! Also, just got more patterns and thread so we are well stocked!
The very popular Janome 4120QDC(B) and the Janome 3160QDC(B) are back in stock and ready for Christmas!! These very user friendly machines are great for retreats, a young person just starting out or anyone who just loves to sew! Come and see how lightweight they are and easy to operate!
In October, we will be starting our UFO Club! This will be on a Saturday, October 6th from 10-2p.m. We have room for 18-20 people. The cost is $5.00. You can bring a brown bag lunch if you want and work on anything that you want to get those UFOs finished! Come and join in the fun. Mark your calendars!