Skip Navigation
Website Accessibility
Newsletter October 3rd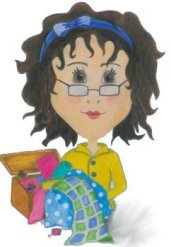 SHARYNN'S QUILT BOX
890 S. STATE STREET
P.O. BOX 1041
NORTH VERNON, IN 47265
812-346-4731
IT'S A CELEBRATION!!! THIS IS SHARYNN'S QUILT BOX 20TH ANNIVERSARY SELLING JANOME SEWING MACHINES!! All machines (includes sergers) are on sale!!! We have reduced prices from $100 to $1000! We will teach you how to use the machine also. This is just in time for Christmas! So get the jump on that Christmas list! We have the 4120QDC(B), 3160QDC(B), M7200, MC500E (embroidery only), Skyline S7 & S9 (S9 is embroidery), MC9400, MC15000 Quiltmaker, and others. Check us out first!!
And all SALE FABRIC is now $5.00 a yard!! You need some fabric to go along with that new machine you are buying, right?? A minimum of 1 yard cuts, please.
Our October is shaping up to be a very busy month and we are only in the 1st week! We have UFO Club, Embroidery Club, Sharynn's Stitchin' Friends on Saturday, October 13th at 9 a.m. and Handi-Quilter Pro-Stitcher Classes on the 19th and 20th! Keep watching the newsletter for more to come!
As requested, on Saturday, October 6th we are having our first UFO Club!! You can sew on any project that is unfinished (or begin a new one!!) from 10 a.m. to 2 p.m. The cost is $5.00. So grab a girlfriend and come sew with us! We are looking forward to seeing everyone. We had such a great time at our Jelly Roll Day so if you didn't get your quilt finished or you are trying to get those projects finished, come and sew with us at the UFO Club! We will be doing this once a month on the first Saturday. You are welcome to bring a brown bag lunch. Let's get those UFOs turned into completed projects!
Attention all Embroidery Club members, due to a conflict in scheduling, we find that we can't have our Club on Wednesday, October 10th. We are so sorry for this inconvenience. We will meet on October 17th from 11-2. If this isn't convenient for you, please call the store. You are welcome to come to Sit 'n' Sew on Wednesday, October 31st. We want to work with you to make sure that you are able to complete your blocks.
On October 19th and 20th, Diane Henry, National Handi-Quilter Educator will be here at Sharynn's for 2 days of Pro-Stitcher Classes. HQ Pro-Stitcher is an intuitive computer-guided quilting system designed especially for use with the Handi-Quilter longarm quilting machines. It is user-friendly and simple to operate. The step-by-step process for each function is easy and fun. Check out our website www.sharynns.com for more information. Call the store to reserve your spot! Seating is limited.
Be sure to mark your calendar for the Snowman Shuffle! We are working on our projects for this unique Shop Hop! You won't want to miss it! Lots of Christmas ideas, projects, fun and prizes! Passports are on sale now.
Update on the Accuquilt GO! Cutter Club. We will be starting in January. So continue to watch the newsletter or Facebook for more information.
Check out our Facebook page for pictures of new fabrics and updates.


October 3, 2018