Newsletter November 7th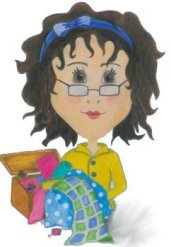 SHARYNN'S QUILT BOX
890 S. STATE STREET
P.O. BOX 1041
NORTH VERNON, IN 47265
812-346-4731
The Holidays are fast approaching. Time for getting all those decorations in order. Table runners, placemats, napkins, etc…..we have the fabric to get those done. The fall colors are so pretty in reds, browns, tans, navy and green. Come see what we have!!
Is there a sewist on your Christmas list? We have just received Janome's newest machine the 4300QDC(B)! This machine is light weight (about 14 lbs) and with lots of features, 300 built-in stitches, 7 one-step buttonholes, scissors, needle threader and lots more! We have only 5 of these machines and when you buy one, you will receive a Janome carrying case compliments of Sharynn's Quilt Box!
We have a wonderful array of machines for everyone on your list. If embroidery is a priority, how about the ultimate machine…the Janome Horizon Quilt Maker 15000! This machine is a dream come true! Over 500 built-in designs with WI-FI capabilities for transferring designs from your IPad or computer to your machine. Janome has designed 5 amazing apps to make your embroidery easier and better.
The S9 is also an embroidery machine with WI-FI capabilities and you can also transfer designs just like the 15000! This machine has 300 built-in stitches and lots of features found on more expensive machines. We love what this machine can do and you will too!
We also have the 5 star rated 4120QDC(B) and the 3160QDC(B) machines. These make wonderful "starter" machines. These weigh in at about 14 lbs and are great for retreats and classes.
Be sure to come and see what our deals are on all our machines and sergers for Christmas.
We had a great turn out for UFO Club on Saturday. And we had a great time. So plan on joining us on January 5, 2019. We won't be having UFO in December as this is the Saturday of our Shop Hop. By then we'll all need a good day of sewing!
Our English Paper Piecing Class which is a hand sewing class will be held on November 16th from 1-3 p.m. Carol Walp is teaching this class. No sewing machine is needed for this class and you will be able to finish the project that day. You will be making a pincushion. If you are interested, please call or come into the shop. We will have the cost of the kit and class fee next week.
Sharynn's Stitching Friends will meet on Saturday, November 10th at 9 a.m. here at the shop. Remember to bring Show 'n' Tell and we will have sign-ups for the December Christmas Breakfast.
Embroidery Class will be November 14th from 11-2. We will be working on the embroidered Sentiment Blocks. Please consult your book for what you will need to bring for class. Check to make sure that you have the fabrics as some of them we have already used in other blocks. You will decide what colors you will use in your blocks. These blocks are so fun to make!!
The 5 County Holiday Shop Hop – Snowman Shuffle is coming up fast! Have you got your passport? Gotta have one so come and get it now!! There are lots of prizes to win and lots of new "gadgets" to demo. The Shop Hop begins on November 29th and continues thru December 1st. Hours are 9-5 each day. Your passport will include a coordinating applique pattern. When you complete the Shop Hop and turn in your completed passport you will be entered into the drawing for the Grand Prize of five (5) $50.00 Gift Certificates. For every $20.00 (plus sales tax) that you spend you will receive and entry for a Gift Basket valued at $100.00!! We are working on our special project featuring a Snowman and we are excited to show it off!! You will love it!!
Just a note…..Sharynn's Quilt Box will be closed November 22nd and 23rd so we can spend time with our families. We will open on Small Business Saturday, November 24th from 10-3.
November 7, 2018