Newsletter November 13th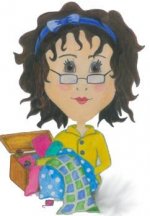 SHARYNN'S QUILT BOX
890 S. STATE STREET
P.O. BOX 1041
NORTH VERNON, IN 47265
812-346-4731
Here at Sharynn's Quilt Box we are all excited about the upcoming holidays. Thanksgiving is such a fun holiday to gather with our family and friends.
We will be closed Thursday and Friday to spend time with our families. We will be open Saturday to celebrate "Small Business Saturday".
We have planned a store load of surprises for those who shop with us throughout the holidays! We will have special pricing on all of our fabulous Janome sewing and embroidery machines. If you have been dreaming of a fabulous and super dependable new machine, this is the time to shop our store.
If you are looking for a rolling cart for your larger machine, we have the Tutto Carts in the large and extra large size. Be sure to check them out!
Then there are the wonderful ACCUQUILT GO! CUTTERS!! These are such time savers and so much fun to use. Check them out as we have specials on them too!
Darrell is ready to help you decide which Handi-Quilter longarm machine you need to finish those beautiful quilts. Darrell has received the prestigious HQ Way Award for 7 years for being tops in service! He has received the top seller award for 4 years!
Embroidery Class is tomorrow from 11-2. Check your book for the Sentiment Blocks and what you will need. You have all the fabric except one so you can go ahead and cut them the right size. You may use thread that you like. This is your quilt so make it unique! Just one hint….on the gray fabric, use a dark blue if you decide to use blue. Light blue won't show very well. You will need stabilizer of course. Looking forward to seeing every one tomorrow.
Friday will be Carol Walp's English Paper Piecing Class 1-3. Class fee and kit fee will be $25.00. You have a couple of days to still sign up. This project is entirely handmade! No need for a sewing machine. If you have signed up, please remember to pay on Friday when you come. Items that you will need:
1) small sewing scissors
2) off white, gray, or black thread
3) thimble (if you use one)
4) seam ripper
If you have questions, please call the shop.
We will again be selling Grab Bags for $2.00 each. ALL monies will go to Mercy Rescue and Adoption. We are calling this The Sophia Project: "Help My Friends"! Sharynn will match all the funds we receive for the sale of these Grab Bags. Jamie and Anne Poore work very hard to help all animals and we want to help. So when you come in, buy a Grab Bag, and help the animals!
We are 2 weeks away from the 5 County Holiday Shop Hop! We are about ready and we are very excited to be participating in this Shop Hop. Be sure to get your passports before the price goes up. There will be lots of surprises, prizes, and fun for everyone. So be sure to come and join us!
We have been in business for 26 years serving Jennings and surrounding counties. We love being here and serving you!