Newsletter November 20th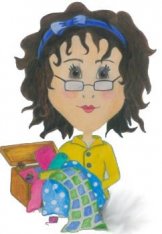 SHARYNN'S QUILT BOX
890 S. STATE STREET
P.O. BOX 1041
NORTH VERNON, IN 47265
81-346-4731
Thanksgiving is upon us and we are so thankful for every one of you! Our prayer is for a safe and healthy holiday season. We will be closed on Thanksgiving and on Friday (November 23rd) so that we can spend time with our families. We will be open on Saturday, November 24th for Small Business Saturday from 10-3. We are planning hourly specials so you won't want to miss out on that.
Here's a bit of a preview:
10 am-11 am: all Christmas, Fall, Halloween, & all Flannels fabric will be 20% off.
11 am-12 pm: books, patterns & notions will be 20% off
12 pm-1 pm: all pre-cuts (jelly rolls, charm packs, & layer cakes) will be 20% off
1 pm-3 pm: all Sale fabrics will be $5.00 per yard
We are slashing prices on all Janome sewing machines in stock. This is just in time for Christmas. This is the time to get that machine that you want. We will help you with learning how to use your machine and we service what we sell on site. Darrell has 21 years experience servicing Janome machines. He attends classes and learns every machine. So come and see us first!
We are putting the finishing touches on the 5 County Holiday Shop Hop!! We are excited to welcome you! Get your passports and join in the fun! Dates are November 29th, 30th and December 1st. Hours are 9-5 each day. Each of the 5 shops will be giving away a basket worth $100.00. For each $20.00 (plus tax) you will receive a chance on the basket. So the more you shop, the better your chances of winning! When you complete your passport, you will be in the drawing for the 5 $50.00 gift certificates.
Beginning on Small Business Saturday and continuing thru December 22nd, we will again be selling Grab Bags for $2.00 each. ALL money collected will be donated to Mercy Rescue and Adoption. Sharynn's Quilt Box will match all funds donated! This is Sophia's Project and she wants to help the animal at Mercy Rescue. Sophia says that Anne and Jamie Poore do a wonderful job but they need our help. So come in, get a grab bag and help the animals! The grab bags are filled with great "pieces" of fabric that can be used in lots of different ways.
ACCUQUILT GO! CUTTERS Specials – We have $100 off the Ready, Set, Go Ultimate Fabric Cutting Systems until November 22nd. And until November 25th we have 20% off GO! Dies. This excludes all GO! QUBE products and NEW GO! Dies.
From November 23rd thru the 30th $150.00 off GO! BIG Fabric Cutters. You will receive $100 off at time of purchase and a $50.00 mail-in rebate.
And you can save $20.00 on all GO! QUBE products 6", 8", 9", 10" and 12". The Mix and Match Block Systems and Companion Sets—Corners and Angles. This sale also includes Specialty Sets-Serendipity by Edyta Sitar. Sale is valid from November 23rd to November 30th.
ONE DAY ONLY—Small Business Saturday – Cutting Mat 10"x24" (reg. $29.99) is priced at $19.99 when you purchase $25.00 or more.
Don't miss these deals!
There will be no Sit 'n' Sew this month. We will resume in January.
Sharynn's Stitching Friends will meet on December 8th at 9 a.m. for our Annual Breakfast. If you haven't reserved your spot, please call the shop.
Our Embroidery Class will meet on December 12th 11-2.
We here at Sharynn's want to wish you and your family a very Happy Thanksgiving!
November 20th