Newsletter November 28th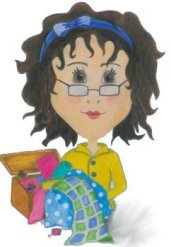 SHARYNN'S QUILT BOX
890 S. STATE STREET
P.O. BOX 1041
NORTH VERNON, IN 47265
812-346-4731
We are working getting everything ready for the Snowman Shuffle 5 County Shop Hop!! It starts tomorrow and we still have passports for $5.00. Tomorrow they will be $6.00. Our project is so versatile and you can do so many things with it. We are anxious for everyone to see it! The hours will be 9-5 each day. Join us for the fun on Thursday, Friday and Saturday.
ACCUQUILT GO! CUTTER SPECIALS:
Now thru the 30th, GO! BIG Fabric Cutters are $150.00 off! You will receive $100.00 off at time of purchase and a $50.00 mail-in rebate.
For the first time, NEW GO! Dies are on 20% off! Come and get them while supplies last.
Also, save $20.00 on all GO! QUBE products 6", 8", 9", 10" and 12". The Mix and Match Block Systems and Companion Sets –Corners and Angles. This sale also includes Specialty Sets – Serendipity by Edyta Sitar. This sale ends on November 30th.
And don't forget, we will be selling Grab Bags for $2.00 each to help out Sophie's friends at Mercy Rescue and Adoption. ALL monies will be donated to this wonderful organization. Sharynn's Quilt Box will match the funds donated. This is Sophie's Project and she wants to help the animals at Mercy Rescue. Sophie says that Anne and Jamie Poore and all their volunteers do a wonderful job but still need our help. So come in, get a Grab Bag or 2 or 3! There is some really great fabric scraps in these bags.
We will resume Sit 'n' Sew in January.
Also, there will be no UFO Club in December due to Shop Hop. We will begin again on January 5th at 10 a.m. Call the shop to reserve your spot. There is a $5.00 fee for this.
Sharynn's Stitching Friends will meet December 8th at 9 a.m. for our Annual Breakfast. We will also have sign up for next year.
Embroidery Class will meet on December 12th from 11-2. We will be working on the Watermelon Blocks. Please check your book to see about the hoop size and thread needed. We are following the colors pretty closely.
We have a wonderful CD from Kimberbell for Christmas Mug Rugs/Hot Pads. We have a few samples here in the shop.
Don't forget that we have all of our Janome machines on Super Specials. Come in and take a look at these wonderful machines. We've been selling these machines for 21 years so you know they will stand the test of time.