Skip Navigation
Website Accessibility
Newsletter December 11th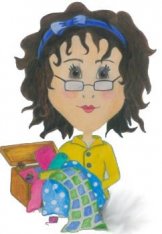 SHARYNN'S QUILT BOX
890 S. STATE STREET
P.O. BOX 1041
NORTH VERNON, IN 47265
812-346-4731
Christmas is "sneaking" up on us quickly!! Just 2 weeks away! Do you have everything finished? All your gifts bought and wrapped? If you do, you are miles ahead of us! We are still working on lists!!
Our 12 Days of Christmas will begin tomorrow on December 12th and run thru December 22nd. Here's how it will work—each day something different (such as fabric one day or notions or patterns, etc!) will be on sale! You will have to come in to find out what it is. But it will be worth your trip!
Do you need Stocking Stuffers? We have patterns, fat quarters, rulers, kits, and lots more! And if you have a large enough stocking, you can fit a new machine in it!!! Our Janome machines are on Special Holiday pricing. You don't want to miss this if you are in need of a new machine or you just want to upgrade. We have something for every budget. Come in and see us. Our machines are on Super Specials right now and so this is the time to buy one. We have a machine to fit every budget.
We also have Gift Certificates that are always just the right thing. It's never the wrong color, wrong size, and it always fits!
If your dear husband isn't a very good shopper, send him our way and we'll help him to pick something out!
HOLIDAY HOURS: We will close at 3 p.m. on December 22nd and reopen on January 2nd at 10 a.m. We hope you have a Merry Christmas and Happy New Year.
ACCUQUILT GO! CUTTER SPECIALS:
You can save $50.00 (after mail-in rebate) on the Go! BIG READY, SET, GO! This is the electric one that will handle dies up to 12". What a great Christmas gift this would be!
ALL GO! DIES ARE ON SALE -- $5.00 OFF Dies priced from $24.99 to $49.99 and $10.00 OFF Dies price from $59.99 & up! This offer ends December 31st.
We had a wonderful breakfast with our Stitching Friends and we are so happy that so many were able to come and be with us for the party. The annual fee is $15.00. If you want to join just come in and sign up. We do have a lot of fun and meetings are the 2nd Saturday of each month at 9 a.m. here at the store. We'd love to have you join us.
Our Embroidery Club is tomorrow at 11 a.m. We will be working on the Watermelon Blocks. You will need your 5x7 hoop and this hoop will work for all the blocks you will be completing. You will need red, black, lime green, & pink thread. Check your book as we have tried to follow the book very closely on colors.
We will resume our UFO Club on January 5th. Come and join us for some fun! Make a list of all your unfinished projects and you can mark them off as you complete them! Five dollars gets you a seat at the table! You can sew from 10-2!
December 11th