2019 Newsletter - January 8th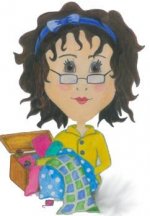 SHARYNN'S QUILT BOX
890 S. STATE STREET
P.O. BOX 1041
NORTH VERNON, IN 47265
812-346-4731
Happy New Year from all of us here at Sharynn's!! We are still waist deep in inventory but we are getting it done!
We have some new classes and exciting projects in the works for 2019!! So "stayed tuned" as they say for more info.
Some very good news is that our Janome sewing machines are still on special pricing. So if you didn't get what you wanted for Christmas now is the time to come in and get it.
Beginning today, January 8, 2019, our prices for cleaning and service of Embroidery machines will be $99.95 and Regular sewing machines will be $84.95. This is the first increase in our prices in 15 years. Darrell works very hard to stay current with all the new technology. We appreciate your business and patronage.
Accuquilt GO! Cutter Dies are on special….up to 40% off selected dies. You can save $50.00 when you buy a GO! BIG cutter or the READY. SET. GO! ultimate fabric cutting system. Come and see what we have.
Our Embroidery Club is Wednesday, January 9th 11-2. Please read your book. We will be doing the Mason Jar blocks. These blocks are the 5x7_MasonJar1, 2 & 3. Please check to be sure that these designs are on your jump drive.
Here is what you will need to bring:
1) a 5x7 hoop
2) stabilizer – enough for 3 different projects
3) gray or silver embroidery thread
January 12th is our first meeting of Sharynn's Stitching Friends. This is here at the shop from 9-10 a.m. If you are not a member and want to be, you can sign up that day or come in and we'll get you signed up. We have lots of fun.
We will be having Sit 'n' Sew this month on January 30th. That is the last Wednesday of the month and you can sew from 1-4. It is free! If you are working on a special project and need some help, we'll be glad to help you out. We will also be doing UFO Club on February 2nd from 10-2. This is also a great opportunity to work on finishing up those UFOs that we all have sitting around.
January 8, 2019