2019 Newsletter - January 16th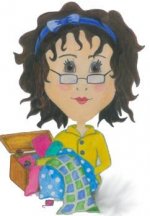 SHARYNN'S QUILT BOX
890 S. STATE STREET
P.O. BOX 1041
NORTH VERNON, IN 47265
812-346-4731
Please pardon our mess. Inventory is finished and we are putting out all the new spring fabrics that have come in since Christmas! And we are rearranging the store! We are posting them on FaceBook so check them out. We have some beautiful floral prints that will just warm your heart. And with the weather that we have been having, it is needed!
ACCUQUILT GO! CUTTER DIES are still on sale…up to 40% off on selected dies until January 31st. If you didn't get a GO! CUTTER, now's the time because they are $50.00 off when you buy the GO! BIG or the READY! SET! Go! ultimate fabric cutting system. We'll demo these awesome machines for you.
We are sorry that we were unable to have Sharynn's Stitching Friends meeting on Saturday, January 12th. We will have our next one in February. There is still time to sign up!
Please note that the price for cleaning and servicing of Embroidery machines will be $99.95. Regular sewing machines will be $84.95. This is our first price increase in 15 years. Darrell works very hard to stay current with all the new technology. We appreciate and value your business. Thank you!
We have selected the fabric for the CHARMING SPRING SHOP HOP 2019!! And we are so excited to get started making our quilt. This will be the 14th Annual and the dates are April 3-6th, 2019.
Participating shops are:
1) Cabin Arts – Burlington, KY
2) L & L Yard Goods – Madison, IN
3) Margie's Country Store – Madison, IN
4) Sharynn's Quilt Box – North Vernon, IN
5) The Quilt Box – Dry Ridge, KY
6) Tree City Stitches – Greensburg, IN
7) Quilter's Nook – Versailles, IN
8) Quilters Garden – Lawrenceburg, IN
Passports will be available in the near future. Watch the newsletter for more info.
We will have Sit 'n' Sew on January 30th from 1-4 pm. Come and sew with us. Embroidery Club members, if you have a block that you didn't get finished and want to work on these please come to the Sit 'n' Sew and we'll help you.