2019 Newsletter - January 23rd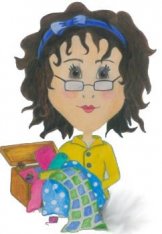 SHARYNN'S QUILT BOX
890 S. STATE STREET
P.O. BOX 1041
NORTH VERNON, IN 47265
812-346-4731
We hope that everyone is keeping warm and dry. We know that isn't easy with this weather we've had but it is a great time to stay busy sewing up "loose ends"! Are you working on UFOs? Cleaning out your sewing room? Finding more UFOs? Well, let's get 'em done! We have UFO Club on the first Saturday of the month and Sit 'n' Sew on the last Wednesday of the month. So grab a project, a sewing machine, and come sew with us here. We have lots of fun. Hope to see you!
We are still adding more fabric to our shelves and pulling some for the SALE Rack.
Mark your calendar for the Charming Spring Shop Hop 2019. This will be the 14th Annual Shop Hop. Dates are April 3-6th, 2019. There are eight participating shops with lots of prizes and fun for everyone. One lucky person will win a Janome 3160 QDC(B). So be sure to get your passport (available February 1st).
ACCUQUILT GO! CUTTER DIES are still on sale…..up to 40% off on selected dies until January 31st. Also, the GO! BIG or the READY! SET! GO! ULTIMATE FABRIC CUTTING SYSTEM is on sale! You will receive a $50.00 rebate.
Be sure to stop in and see all the new fabrics and panels! We try to post on Facebook but realize that not everyone has access to it. Please like us and share our posts!
January 23, 2019