2019 Newsletter - February 13th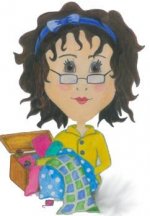 SHARYNN'S QUILT BOX
890 S. STATE STREET
P.O. BOX 1041
NORTH VERNON, IN 47265
812-346-4731
Sharynn, Darrell, and Sophia are back from vacation! We are so happy to have them back safe and rested!
As a welcome back, we are selling all of our red, cream, blue and black shirting fabrics 20% off!! They are all right in front so come get them while they last!
ACCUQUILT GO! SALE!!!!
Buy any one Die, Mat or Accessory and get 10% off. Buy any two Dies, Mats, or Accessories and get 15% off. Offer ends Feb. 18th. We have the Easter Die with the basket, chick, bunny & egg. This would make a beautiful Easter table runner/topper. And it's on SALE!!
All GO! Qubes and Companion Sets are $20.00 off until Feb. 14th.
More "goodies" coming next week! Be watching!
We are working on several projects one of which is a Fall Retreat here at the shop. We are looking at September. Our Jelly Roll Day was such a success that we thought we might just make it into a retreat! This would be 2 days (Friday and Saturday). Please keep this in mind as we finish up the details!
Also, if you belong to a quilt guild and would like to meet at the shop, give us a call. We'd be happy to host your group.
Don't forget the Charming Shop Hop coming up April 3-6th. Cathy is working on our quilt and it is going to be quite beautiful! There are 8 shops participating and lots of prizes and fun. So be sure to get your passport early. The first 250 passports sold will receive a 2019 charm. When you get your passport stamped at each shop, you will receive a charm. Collect them all and you will have 9 charms for a bracelet or necklace!
February 13, 2019