Newsletter - February 27, 2019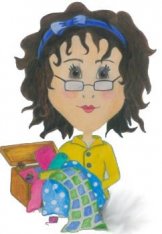 SHARYNN'S QUILT BOX
890 S. STATE STREET
P.O. BOX 1041
NORTH VERNON, IN 47265
812-346-4731
We are anxiously awaiting the arrival of Spring! We are ready for some flowers to bloom and sunshine to warm us up! Spring fabrics are arriving almost daily. The colors are so beautiful….pastels in blue, pink, green, yellow, etc.! These are so pretty for Easter and Spring projects. Be sure to come and see all of them!
Then we also have some very vibrant fabrics by Northcott. It's called Imagine! Reminds us too of Aurora Borealis!! All the natural reddish and greenish lights in the Northern sky! We just posted a picture on Facebook!
Also, our red, cream, blue and black shirtings are still on 20% off sale.
Charming Shop Hop will be here before you know it! We are about 5 weeks away so get that passport soon. The dates are April 3-6th and hours are 9-5 Wednesday, Thursday and Saturday. Friday, 9-6. You don't want to miss this one! There are 8 shops and lots of prizes including a Janome 3160QDC(B). This is an awesome "little" machine so you will want to be sure to get to every shop. Participating shops are:
1) Cabin Arts – Burlington, KY
2) L & L Yard Goods – Madison, IN
3) Margie's Country Store – Madison, IN
4) Sharynn's Quilt Box – North Vernon, IN
5) The Quilt Box – Dry Ridge, KY
6) Tree City Stitches – Greensburg, IN
7) Quilter's Nook – Versailles, IN
8) Quilter's Garden – Lawrenceburg, IN
Each shop will offer packages of 20 charm squares for $5.00 with a free pattern! So be sure to get your passport and join in the fun.
Sharynn's Quilt Box will present a 2 day Handi-Quilter Education Event! The dates are May 17-18, 2019. This will be the same Friday and Saturday format as in the past.
Michelle (Micki) Chappelear is our Handi-Quilter Educator for this event. We will be getting more information out as we receive it from Handi-Quilter. So mark your calendar for this event and call the shop to get your name on the list. The cost is $90.00 per day or $150.00 for both days.
Friday, May 17, 2019 Fast, Fun & Fabulous Free Motion Quilting &
3B's – Backgrounds, Borders, & Blocks
Saturday, May 18, 2019 Creative Textures & Fills
Ruler Essentials
Space is limited so sign up early.
This Saturday is UFO Club from 10-2. Just come and sew with us and get those projects finished! So come join in the fun! You are welcome to bring a brown bag lunch.
Some upcoming dates to remember:
March 2nd – UFO Club 10-2. Come and join in the fun!
March 9th – Sharynn's Stitching Friends 9 a.m. here at the shop. Bring your Show 'n' Tell
March 13th – Embroidery Club – more info to follow
February 27, 2019