Newsletter - March 6th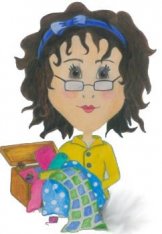 SHARYNN'S QUILT BOX
890 S. STATE STREET
P.O. BOX 1041
NORTH VERNON, IN 47265
812-346-4731
Congratulations to Sharynn's Quilt Box from Handi-Quilter for being one of the 2018 HQ Way Retailers!! We want to thank all of our customers who made this award possible. We are proud to bring you first quality products. We will always work with you to give you the best possible price and our service is first rate. If you are interested in a Long-Arm quilting machine, come see us first.
It is National Quilting Day (from now until the 12th of March) with Handi-Quilter. Check out the website for the specials!
Mother Nature isn't cooperating much and we are back in the deep freeze! So the best thing to do is sew! Get out those projects and get to work on them. We had a wonderful UFO Club last Saturday. Check out Facebook for all the pictures. There won't be a UFO Club next month because of the Shop Hop but we'll be back at it in May! So come sew with us and have some fun!
Are you attending the Indiana Heritage Quilt Show in Bloomington this week? It is the 7th – 9th. Sharynn and Darrell will be there so be sure to stop in and see them. Darrell is showing our Handi-Quilter machines. These are great machines for finishing up your quilts.
We are working with several people to bring you the classes you have been asking about. As we get them lined up, we'll let you know.
ATTENTION EMBROIDERY CLUB MEMBERS:
Our embroidery club is next Wednesday, March 13th 11-2. We will be working on the Four Patch blocks, Pinwheel blocks & the Windmill blocks. You will not need your embroidery machines. You can bring a small sewing machines to complete these blocks. You will need white or off-white thread. Check your book to see what you will need.
We are working on our website and Facebook to keep them up to date with all our events. Be sure to like us on Facebook and share our posts. And check out our website at www.sharynns.com
Have you got your passport for the 14th Annual Charming Shop Hop? We got them and you need one! The dates are April 3-6th and hours are 9-5 Wednesday, Thursday, & Saturday. Friday, 9-6. You don't want to miss this one! There are 8 great shops and lots of prizes with charms to collect at each shop. Also, lots of prizes and the Grand Prize is a Janome 3160QDC(B). This "little" machine is light weight, user friendly and great to take to class, retreats or just to have a back-up machine! If you don't win it, you can get it at our store!
Upcoming events:
March 9th – Sharynn's Stitching Friends - 9 a.m. Bring your Show 'n' Tell.
March 13th – Embroidery Club – 11 a.m.