Newsletter - March 20th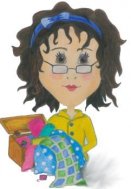 SHARYNN'S QUILT BOX
890 S. STATE STREET
P.O. BOX 1041
NORTH VERNON, IN 47265
812-346-4731
Happy Spring to everyone!!
Time is "marching" on and we are getting very close to our 14th Annual Charming Shop Hop April 3rd thru the 6th. There are 8 shops with lots of prizes. The Grand Prize is a Janome 3160QDC(B) sewing machine. This machine is a great machine for taking to retreats and classes. There will be 8 $25.00 Gift Certificates and 8 $50.00 Gift Certificates give away. A Gift Basket with 80 Fat Quarters and 8 In Store Gift Certificates given away. Passports are still available (although all of the 2019 charms are gone) for $5.00 until the day of the Hop. They will be $6.00 during the shop hop. Each shop will offer packages of 20 charms squares for $5.00 with a free pattern. You will receive a Charm at each shop and after completing the hop you will have 8 charms for either a necklace or a bracelet. And you will have had a great time!

Participating shops are:
1) Tree City Stitches – Greensburg, IN 47240
2) Margie's Country Store – Madison, IN 47250
3) L&L Yard Goods – Madison, IN 47250
4) Quilter's Nook – Versailles, IN 47042
5) Sharynn's Quilt Box – North Vernon, IN 47265
6) Cabin Arts – Burlington, KY 41005
7) The Quilt Box – Dry Ridge, KY 41035
8) Quilters Garden – Lawrenceburg, IN 47025
Each shop will have a quilt and other projects using the Shop Hop fabrics. Be sure to join in the fun!
Sharynn's Quilt Box will again host 2 days of Handi-Quilter Classes May 17th and 18th. Michelle Chappelear (Micki) will be here to conduct this event. We are excited to bring you these continuing education classes. The cost for both days is $150.00. There are 2 classes each day. Friday classes will be Fast, Fun, & Fabulous Free Motion Quilting in the morning and Backgrounds, Borders, & Blocks in the afternoon. Saturday classes will be Creative Textures and Fills in the morning and Ruler Essentials in the afternoon. Space is limited so get your name on the list early!
We are getting very excited about our In-House Quilt Retreat and it isn't until September! We have several already signed up and space is going quickly. A $25.00 deposit will hold your spot. This is just a "regular" sewing retreat and you can sew on anything you want! We will serve lunch and there will be snacks. We will have Show 'n' Tell on Saturday after lunch. If you have expressed an interest in attending, we have sign up forms at the shop you will need to fill out and make your deposit. You can do this anytime you are in the shop. Make plans to join in the fun!
Are you in need of a new sewing machine? Your old one just not doing what you want any more? Come in and see us. We have Janome machines and they are user friendly and the most up to date technology. We have one just for you!
Lots of new fabric has come in. Buttermilk Blossom by Henry Glass is so beautiful. We have the whole line of fabrics plus the panel. We also have fat quarters of this fabric.
We have also received Northcott's whole line of Stonehenge Gradations Mixers. And we have the panels. Don't miss this one!
We will not have Sit 'n' Sew on Wednesday, March 27th. Our local 4-H Sewing Club is meeting here in our classroom to complete projects for our County Fair. We like to encourage these young men and women with learning the art of sewing.
If you are in our Embroidery Club and need to "catch up" with your blocks and want help, please call the shop and we will make arrangements to help you with them. Next month we will be working on the flying geese done in the hoop.
March 20, 2019