Newsletter - March 27th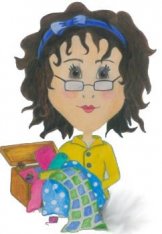 SHARYNN'S QUILT BOX
890 S. STATE STREET
P.O. BOX 1041
NORTH VERNON, IN 47265
812-346-4731
We are working "feverishly" to get everything ready for the 14th Annual Charming Shop Hop. Are you ready? Do you have your passport? We still have passports but if you want a 2019 charm, you'll have to order it. They are $5.00 prepaid.
Our quilt and projects are finished and we are getting everything ready to greet you all! We hope you will join us in all the fun. We will have our free pattern and our charm packs are $5.00 for 20 charms. Charms are so versatile. And can be used in so many different projects.
We posted some of the new fabrics that have come in on Facebook. Check out the pics and please like and share.
The Red, Cream, Blue and Black shirtings fabrics are still on 20% off sale. Also, we have pulled more bolts for the sale rack.
Do you own an Accuquilt GO! Cutter? If not, you need to come in and see what you can do with one of these great cutters. We have the Ready. Set. GO! BIG which is electric and will cut 12" dies. We also have the GO! (which is crank). These cutters will cut up to 6 layers of cotton fabric with 99% accuracy. We carry the most popular dies too. You can create a whole quilt in about half the time of cutting by hand. You will be amazed at what you can accomplish. We also carry the Qubes. You can cut time and quilt more!!
Sharynn's Quilt Box will again host 2 days of Handi-Quilter Classes May 17th and 18th. Michelle (Micki) Chappelear, a Handi-Quilter Educator will be here to conduct this event. Check the website for more information or call the store. Space is limited so don't wait too late.
We are over half full for our In-House Retreat!! We are so thrilled. If you signed up but didn't pay the deposit, please send a check no later than April 30th. This will hold your spot. After that we'll open it to others. We are working on some fun things for you.
Mark your calendars:
April 3-6 - 14th Annual Charming Shop Hop Hours 9-5 Wednesday, Thursday, & Saturday. 9-6 on Friday
April 10th – Embroidery Class 11-2 Flying Geese in the hoop
April 13th – Sharynn's Stitching Friends 9 a.m.
March 27, 2019