Newsletter - April 23, 2019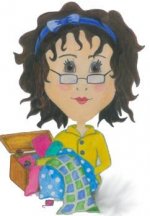 SHARYNN'S QUILT BOX
890 S. STATE STREET
P.O. BOX 1041
NORTH VERNON, IN 47265
812-346-4731
April 23, 2019
We hope you had a very Happy & Joyous Easter. The weather cooperated and was beautiful for all the egg hunts.
Sharynn is working on her quilt for the Southern Indiana "Bed of Roses" Shop Hop coming up June 19th thru June 22nd. The hours are 9-6 each day. Each shop will have a different quilt block pattern that you will receive free when you visit their store. Each shop will offer a fabric kit for that block pattern for $5.00, if you choose to purchase.
Passports are on sale now for $5.00 each. There are lots of prizes and 10 shops participating. Please remember that you have to visit each shop, have your passport stamped and turn in that passport to the last shop to qualify for the Grand Prize. We CANNOT stamp passports for anyone not in attendance! Thank you.
UPCOMING EVENTS for May ---
May 4th – UFO Club – Come and sew from 10-2 on those unfinished objects! There is no charge for this! So bring a brown bag lunch and join us.
May 8th – Embroidery Class – 11-2. We will be "building" our quilt! Please bring ALL extra fabrics and ALL your blocks. You will only need a sewing machine…not the embroidery. After sewing all the blocks and "fillers" together, we will put borders (2) on. You will need to decide which fabrics you want to use for your borders. Sharynn and Pat are using what is pictured in the book. These fabrics are NOT included in your kits so you will need to purchase separately. After your quilt is quilted we will make all the embellishments. If you have questions, please call Pat at the shop.
May 11th – Sharynn's Stitching Friends – 9 a.m. Come and join in the fun!
We will again have Sit 'n' Sew beginning May 29th. Our 4-Her's will be finished with their projects. We wish them good luck when they show their projects at the fair. You can sew from 1 p.m. to 4 p.m. and there is no charge.
Save $100.00 on the Accuquilt GO! BIG Electric Fabric Cutter Starter Sets are on SALE…$499.99 after mail-in rebate. Offer is available on qualifying fabric cutter and must be purchased between April 17, 2019 and April 30, 2019. Rebate submission must be postmarked by May 14, 2019 to qualify. This offer is only valid on items in stock.