Newsletter - April 30, 2019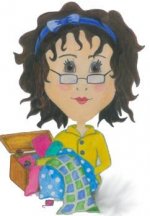 SHARYNN'S QUILT BOX
890 S. STATE STREET
P.O. BOX 1041
NORTH VERNON, IN 47265
812-346-4731
April 30, 2019
We are heading into May! Amazing how fast the time is flying by! We are ready for the warmer weather.
With May upon us we are working on the "Bed of Roses" Southern Indiana Shop Hop. This is our 14th Annual Shop Hop. This Shop Hop features Andover's Bed of Roses by Edyta Sitar of Laundry Basket Quilts. Mark your calendars for 4 days—June 19th – June 22nd. Hours 9-6 each day.
Participating shops are:
The Village Mercantile – Boonville
Scrappy Patches Quilt Shop – Brownstown
Quilters Corner Cottage – Charlestown
The Quilting Bee – Edwardsville
Let's Sew – Evansville
Margie's Country Store – Madison
L & L Yard Goods – Madison
Sharynn's Quilt Box – North Vernon
Small Town Stitches – Seymour
The Stitching Post – Washington
Please take note – Let's Sew, Evansville & The Village Mercantile, Boonville are on Central Time. All other shops are on Eastern Daylight Time.
It's a great, fun time for everyone! So get your passport and plan your adventure!
We are still taking reservations for Michelle Chappelear, Handi-Quilter Educator who will be here at Sharynn's Quilt Box May 17th and 18th teaching classes. Micki has a passion for longarm quilting! She will be teaching a total of 4 classes. Friday morning will be Fast, Fun & Fabulous Free Motion Quilting and the afternoon session will be Backgrounds, Borders, & Blocks. Saturday morning will be Creative Textures and Fills and the afternoon session will be Ruler Essentials. The cost is $90.00 per day or $150.00 for both days.
You don't have to own a longarm to participate in these classes. But if you are interested in purchasing one of these awesome machines, please contact Darrell. There is a longarm that will meet your needs perfectly!
We have UFO Club this Saturday from 10-2 p.m. What do you have that needs to be finished? My list is a mile long! I'm planning to be here and work on putting my quilt blocks together or a t-shirt quilt. I have plenty to work on! So come on and let's get those projects finished up.
May 8th is Embroidery Class – 11-2. We will be "building" our quilt. No need for an embroidery machine. This is straight sewing. Please bring ALL extra fabrics and ALL of your squared up blocks. You will need to purchase your borders as these were not included in the kit. At the June Class we will embroider all the embellishments to go on the quilt after it is quilted.
Mother's Day is just about 2 weeks away. If you're not sure what to get, we have gift certificates. Could mom use a new sewing machine? We have the Skyline 7 on sale. This machine has 240 built-in stitches, 11 one-step buttonholes, a USB port for adding more stitches and the list goes on! The MSRP on this machine is $2599.00 but our price is $1699.00!!
We also have smaller, light weight machines. The 4300QDC, 4120QDC(B), 3160QDC and the M7200. These machines are great for taking to retreats and classes. The weight is less than 14lbs. The stitches range from 300 down to 60. So take your pick! But don't forget Mom!