Newsletter - May 7, 2019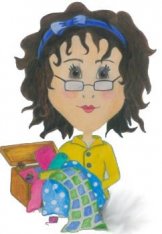 SHARYNN'S QUILT BOX
890 S. STATE STREET
P.O. BOX 1041
NORTH VERNON, IN 47265
MAY, 7, 2019
Welcome to May!! This year is moving very fast! We have lots of events coming up.
May, 8th – Embroidery Class – 11-2. Please bring the following:
1) sewing machine….no need for the embroidery.
2) all extra fabrics and all your squared up blocks
3) white or ecru thread
When we meet in June we will be embroidering the embellishment blocks. We have fabric set aside for you to purchase for your borders. These were not included in kits.
May 11th – Sharynn's Stitching Friends – 9 a.m. Please bring show 'n' tell. We love seeing what you have made.
May 17th & May 18th – Handi-Quilter Classes here on site. Classes begin at 9a.m.
The Accuquilt Cutter Club is closer to becoming a reality. We now have all the info we need to begin this club. We will have some of the sample blocks on display here in the shop beginning in June.
Need to add to your collection of dies for the Accuquilt GO!? Now's the time. GO! Dies, GO! cutting mats, and GO! Qube Companion Sets-Corner & Angles are on 15% off sale. (This excludes new GO! Dies (55863, 55864, & 55675)GO! Qube Mix & Match Blocks (55775, 55776, 55777, 55778, 55797) and GO! Qube Set-Serendipity by Edyta Sitar (55783). Prices as marked. Offers not valid on previous orders. Offer valid until May 13th.
When you purchase a GO! Qube Mix and Match Block 6", 8", 9" 10" and 12" system, you will receive a 162 page GO! QUBE Book by Eleanor Burns.
Have you signed up for Sharynn's In-House Retreat in September? If not, we have several spots still open. The cost is $50.00 for the 2 days and the dates are September 20th & 21st. We will provide lunches for both days. You can sew on Friday from 9 a.m. to 9 p.m. and on Saturday from 9 a.m. to 3 p.m. We will do Show 'n' Tell after our lunch on Saturday. Just come in or call to sign up.
Don't forget to have your sewing machine cleaned and serviced. Darrell is here on site and "turn around" is about 1-2 days. A thorough cleaning is necessary to your sewing machine's "health"! We all want our machines to "hum in the best of health"!
We are 6 weeks away from the 14th Annual Southern Indiana "Bed of Roses" Shop Hop. This shop hop features Andover's Bed of Roses by Edyta Sitar of Laundry Basket Quilts. So mark your calendars (June 19th – 22nd), get your passport, grab your friends and head out for 4 days of fun! There are 10 shops and lots of prizes so don't miss out on the fun.
Don't forget Mom on Mother's Day! We have lots of great gift ideas. We have lots of great machines and all are on special pricing for Mother's Day. Gift certificates are always nice.