newsletter - May 14, 2019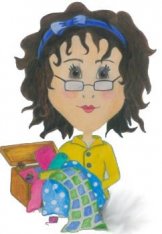 SHARYNN'S QUILT BOX
890 S. STATE STREET
P.O. BOX 1041
NORTH VERNON, IN 47265
812-346-4731
May 14, 2019
It's like Christmas here at Sharynn's!! We received our shipment of Janome Sewing Machines. Our poor UPS man! Check out the pictures on Facebook.
We received the Horizon Quilt Maker MC15000…v3.0. This is the top of the line embroidery machine! This machine has lots of built-in features that you have to see to believe. There are 5 apps which you can download from the APP store. When you purchase this machine it includes an 8GB Apple MacBook Air & Artistic Digitizer! The Horizon Quilt Maker MC15000 machine can help you create the projects of your dreams!
The 500E Embroidery machine and the Skyline S9 Embroidery machine are both back in stock. The S9 includes WI-FI capabilities making it easy to send designs from an iPad/PC to the machine.
The Sewist 725S and 740DC are new machines just released in April of 2019. We will feature more about all of these machines later. Lots of built-in features. Be sure to come in and check them out!!
Handi-Quilter is celebrating SPRING with Springtime Savings from now until May 20th on all models. Come in, talk with Darrell and he'll get you set up with the machine of your dreams.
We have received a large order of ACCUQUILT! Cutters, dies, mats, etc. And we are working on our Accuquilt GO! Cutter Club blocks. We will be making 12 different blocks (one each month for 12 months). If you own an ACCUQUILT GO! CUTTER but aren't sure of how to use it, this club is for you. We will show you all the possibilities these wonderful cutters have to offer. Call or come in to sign up.
Do you have your passport for the 14th Annual Southern Indiana "Bed of Roses" Shop Hop? Just $5.00 gets you lots of fun and maybe some prizes! Each shop will have a different block pattern you will get for free and each shop will offer the fabric kit for purchase if you so choose. Each shop will have a gift basket valued at $125.00 which you can register for when you visit to get your passport stamped. YOU MUST enter the shop to get your passport stamped. And you have to visit all the shops, have your passport stamped at each and turn in the passport at the last shop to be eligible for the Grand Prize. Please don't ask shops to stamp passports for individuals not in attendance.
Grand Prizes:
Your choice of a Janome 3160QDC(B) (from Sharynn's Quilt Box) or a Baby Lock Lyric (from Let's Sew). A basket of 90 Fat Quarters and Gift Certificate valued at $50.00 (10 of these will be awarded to 10 different people).
Participating Shops:
The Village Mercantile – Boonville
Let's Sew – Evansville These 2 shops are on Central Time.
Scrappy Patches – Brownstown
Small Town Stitches – Seymour
Quilter's Corner Cottage – Charlestown
The Quilting Bee – Edwardsville
L & L Yard Goods – Madison
Margie's Country Store – Madison
Sharynn's Quilt Box – North Vernon
The Stitching Post – Washington
Don't miss this one! Passports are available for $5.00 until day of the shop hop. On the day of the Shop Hop, passport will be $6.00.
We are over half full for our In-House Retreat in September!! We are so excited. You can sew on anything you want. The whole store will be available to you and you will be eligible for "specials"! We will provide 2 lunches and have Show 'n' Tell on Saturday. So come in, sign up, and join in the fun in September!