Newsletter-May 21, 2019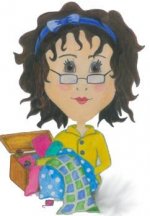 SHARYNN'S QUILT BOX
890 S. STATE STREET
P.O. BOX 1041
NORTH VERNON, IN 47265
812-346-4731
May 21, 2019

This will be a very busy week for everyone with school out for the summer, Memorial Day, and summer vacations in the works. But don't forget to save a little time for yourself for sewing and quilting!
We also have lots of things we are planning for the summer and fall. First on the list is our 14th Annual Southern Indiana "Bed of Roses" Shop Hop coming up June 19th – June 22nd. There are 10 participating shops and lots and lots of prizes. So come in and get your passport, visit each shop, sign up for each shop's gift basket, gift certificates and much more. The Grand Prize is your choice of a Janome 3160QDC(B) from Sharynn's Quilt Box or a Baby Lock Lyric from Let's Sew. And what could be more fun the getting together with your quilting friends and taking a road trip?!
Now is also a good time with vacations in the works to get your machine in to be cleaned and serviced. Darrell does all the servicing of machines here in our shop. There is no need to make an appointment. Just drop the machine(s) off. We know that your machine(s) are important to you so keep them in good working order. Matilda will thank you for it!!
In September, we will have our first In-House Retreat!! If you aren't signed up, call or come in to get registered. Total cost is $50.00 for 2 days of sewing! We will also serve 2 meals. We are excited to offer this opportunity to use our classroom.
In October, Harriet Carpanini will be here to present Handi-Quilter Pro-Stitcher ONLY classes. Harriet is a very well know Handi-Quilter Educator. These classes will be held October 4th & 5th. We will have more information later but you can sign up now.
Handi-Quilter has extended the free shipping until May 25th. So if you are interested in buying a quilting machine, come in and talk to Darrell. He can get you all set up and quilting in no time.
As we told you last week, we received lots of new Janome machines. Do you love embroidery? Or have you always wanted to try it? Now's the time. We have the Horizon Memory Craft 15000! This machine features an 11" throat, 510 built-in stitches, 980 embroidery designs, & WI-FI certified. This machine comes with $2,198.00 in free gifts which include Apple MacBook Air and Artistic Digitizer. This machine is also PC and Mac compatible. If you can dream it, this machine can to it!
The Sewist series which was just released in April, 2019 is also now in stock. We have the 725S, 740DC, & 780DC.
The 725S has 23 built-in stitches and a needle-threader, plus lots of other features.
The 740DC has 40 built-in and a needle-threader, needle up-needle down button and many other features.
780DC has 80 built-in stitches, needle-threader, scissors, needle up-needle down button along with other features.
So there is something for everyone and every level of sewing! Come in and see what you can do!