Newsletter-May 22, 2019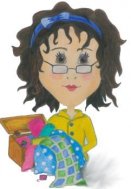 SHARYNN'S QUILT BOX
890 S. STATE STREET
P.O. BOX 1041
NORTH VERNON, IN 47265
812-346-4731
May 22, 2019
OPPS!!! We forgot several of the new sewing machines that have arrived. And we want to tell you all about them.
We have the 500E embroidery only machine back in stock. This machine comes with 4 embroidery hoops up to 7.9"x11" and an extra wide table. Designs are easily imported thru a USB and can be edited thru the machines on-screen editing functions. It also has 6 fonts for monogramming.
You can save $500.00 on this machine and when you buy, you will receive an Artistic Edge 12" Digital Cutter for free. This is a $799.00 value!! The Artistic can help you move seamlessly through all your crafting hobbies—from custom cutwork designs for paper crafting and vinyl to quilting and embellishing. We have a very limited supply so don't wait too long!!
We have the AirThread2000D (serger) and the CoverPro 2000CPX, if you are looking for this type of machine. The AirThread2000D comes with a travel case.
The latest in the QDC series is the 4300QDC. This great "little" machine weighs in at 14 lbs and has 300 built-in stitches! Lots of features you have to see to believe. You'll save $400.00!!
Some of the newest machines for Janome are the Sewist Series. These machines are also light weight and great for retreats and classes.
So if you are looking for a new machine, come in and see us!