Newsletter - May 28, 2019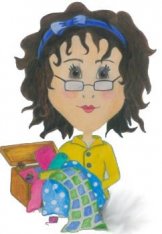 SHARYNN'S QUILT BOX
890 S. STATE STREET
P.O. BOX 1041
NORTH VERNON, IN 47265
812-346-4731
May 28, 2019
Summer is upon us! School is out, vacation is upcoming, and time for the Fair! We all have lots and lots of activities planned. Hope you find time for yourself in whatever "hobby" you love! (We hope that is sewing or quilting!)
Our 14th Annual Southern Indiana "Bed of Roses" Shop Hop is just 3 weeks away. Sharynn is working on the quilt for the shop. We are so excited for everyone to see it. You don't want to miss this one so make sure that you have your passport and join in the fun. There are 10 shops to visit and that alone will be great. It will be 4 days of seeing great shops and awesome quilts! Passports are still available for $5.00. The dates are June 19th - June 22nd. Hours are 9-6 each day.
Participating shops are:
The Village Mercantile – Boonville (this shop is on Central Time)
Let's Sew – Evansville (this shop is on Central Time)
Scrappy Patches Quilt Shop – Brownstown
Quilters Corner Cottage – Charlestown
The Quilting Bee – Edwardsville
Margie's Country Store – Madison
L & L Yard Goods – Madison
Sharynn's Quilt Box – North Vernon
Small Town Stitches – Seymour
The Stitching Post – Washington
There are lots of prizes to win also as each shop will have a gift basket valued at approximately $125.00, which you can register for when you visit the shop and get your passport stamped.
The Grand Prizes:
Your choice of either a Janome 3160QDC(B) (from Sharynn's Quilt Box) or a Baby Lock Lyric (from Let's Sew)
A basket of 90 Fat Quarters
Gift Certificate valued $50.00 (10 of these will be awarded)
To qualify for the Grand Prize, you have to visit each of the 10 shops and have your passport stamped. You will turn in your passport at the last shop you visit. We cannot stamp passports for anyone not in attendance. Please don't ask the shops to do this.
All Embroidery Class members:
We will meet on June 12th. At that class we will be embroidering the embellishments for our quilts. Please check your book to be sure that you have what you need. When you come to class you will receive the Flex Foam and Mylar. You should have the fabric needed for the Dimensional Pinwheels and Dimensional Felt Flowers. You will also receive the striped twine needed for the Mylar Balloons. For the Ruched Watermelon Rinds, you have the fabric in with your other kits. Please bring in your quilt top (quilted or not), we like to get a picture of each of you with your quilt.
If you have questions, please call or come in. Pat is here Tuesday, Wednesday and Thursday.
We now have 3 of the blocks for the Accuquilt Cutter Club finished and hanging in the shop. Stop by and see them. More to come!
UPCOMING EVENTS:
June 1st: UFO Saturday 10-2 p.m.
June 8th: Sharynn's Stitching Friends 9 a.m.
June 12th: Last Embroidery Class 11-2 p.m.