Newsletter - June 4, 2019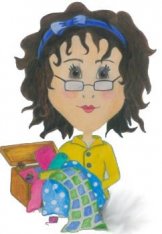 SHARYNN'S QUILT BOX
890 S. STATE STREET
P.O. BOX 1041
NORTH VERNON, IN 47265
812-346-4731
We hope that everyone has "recovered" from the Graduations and the parties that go along with them. It's nice to retreat to the "she-cave" and do a little sewing and relax! Hope that you can find the time to do just that. We all need a little sewing "therapy"!
Sharynn is putting the finishing touches on her quilt for the "Bed of Roses" 14Th Annual Southern Indiana Shop Hop. We hope that you have bought your passport and are planning to join us for a great time. The dates again are June 19th thru the 22nd. Hours are 9-6 each day.
ACCUQUILT GO! CUTTER SALE!!! Save $20.00 on GO! Qube 6", 8", 9", 10" and 12" Mix & Match Block Systems and Companion Sets-Corners and Angles. Sale also includes Specialty Set – Serendipity by Edyta Sitar.
It is Employee Pricing on Janome Sewing Machines!! Some of the machines are the lowest prices we've had! Come in and check these out. See our pictures on Facebook! Be sure to like and share our posts.
Sharynn's Stitching Friends meets this Saturday, June 8th at 9 a.m. Don't forget to bring Show 'n' Tell. We love to see what you've been working on.
EMBROIDERY CLASS:
We will meet on June 12th at 11 a.m. We will be working on the embellishments for our quilts. PLEASE bring all fabrics left over from the quilt and your book. Please check to see what hoops are needed and stabilizer. You will need tape. You will receive the Flex Foam, Mylar, and Tulle. Please bring in your quilt (quilted or not) also as we'd like to do pictures!
If you have questions, please call or come in. Pat is here Tuesday, Wednesday, and Thursday.
Want to learn how to use your ACCUQUILT GO! CUTTER? We will be starting our ACCUQUILT GO! CUTTER Class in September. We will begin using the 12" QUBE Mix and Match Blocks. We have picked out 12 blocks that we will use. We will have an informational meeting early in September. More info to come.
Going away on vacation? Then now is the time to bring in your sewing machine for a good clean and service. These machines need regular servicing to stay in tip-top working order. Our turn around is usually 2 days. Matilda will thank you by giving you years of sewing pleasure!