Newsletter - June 11, 2019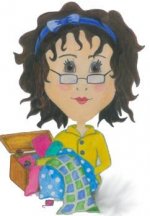 SHARYNN'S QUILT BOX
890 S. STATE STREET
P.O. BOX 1041
NORTH VERNON, IN 47265
812-346-4731
June 11, 2019
We are finishing up last minute details for the Southern Indiana "Bed of Roses" Shop Hop. Fabric is being cut for block kits, the quilt is just about ready for Darrell to quilt and items are being readied for our Gift Basket!
Don't forget to get your passport (if you haven't already!) and get your friends together and head out for a few days of quilt shop hopping, friendship, and just plain ole' fun!
The dates are June 19th to June 22nd. Hours are 9-6 each day. So lots of shopping time at each store!
Our Embroidery Class will meet tomorrow at 11 a.m. to work on the embellishments for the embroidered quilt. PLEASE bring all left over fabrics. Check your book to see what hoops you will need and the stabilizer. You will need your tape! Be sure to bring in your quilt so we can get some pictures.
We will be taking a "break" in the Embroidery Class and will resume classes in either September or October. More info to come. If you have an embroidery machine that you would like to "get to know better" now is the time to join us.
We have lots of upcoming events…beginning with the 14th Annual Southern Indiana "Bed of Roses" Shop Hop….June 19th – June 22nd. This is such a fun event as we get to see lots of friends we haven't seen for a while and make lots of new ones!
We will resume Sit 'n' Sew on Wednesday, June 26th from 1 p.m. to 4 p.m. This is a free event and you can sew on anything you want. And we are here to help if you need it.
Have you been thinking about getting an ACCUQUILT GO! CUTTER? It's Summer Savings Time now on the GO! BIG Cutter and you can get the GO! Big for $50.00 off after mail-in rebate. The GO! BIG is electric and can accommodate the 12½" dies. This offer is valid from 6/13 to 6/20 so hurry in to get yours!
Our first ever IN-HOUSE RETREAT will be September 20th and 21st. We are so excited and it is over half full. We will be sewing from 9 a.m. to 9 p.m. on Friday and Saturday from 9 a.m. to 3 p.m. We will have Show 'n' Tell on Saturday after lunch. We will provide lunch for both days. The cost is $50.00. There will be specials just for our guests! So be sure to reserve your spot now.
In October, Harriet Carpanini will be here to present Handi-Quilter Pro-Stitcher ONLY Classes. Harriet is a very well-known Handi-Quilter Educator. These classes will be October 4th and 5th. We will have more information later but you can sign up now. The cost of these classes is $150.00.