Newsletter June 27, 2019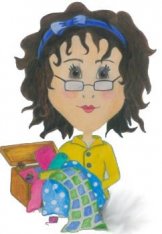 SHARYNN'S QUILT BOX
890 S. STATE STREET
P.O. BOX 1041
NORTH VERNON, IN 47265
812-346-4731
June 27, 2019
We are getting back to "normal" after a very successful Shop Hop! Thank you to all who participated and came to our shop. We loved seeing everyone and making new friends along the way. Don't forget to use your coupon and come back to see us.
Just a note….we have a few blocks left for our quilt from the shop hop. These are $5.00 each. We also have bolts of the setting fabrics to finish your quilt.
Can you believe that we are in the last week of June?! We will be closed for the 4th but will reopen on the 5th .
We will have UFO Club on the 6th from 10 until 2. Come and join us and get those UFOs finished!
Attention Embroidery Class members: if you were unable to get here for the last class, you can pick up your supplies to finish your quilt any time. You are welcome to come to UFO or Sit 'n' Sew to work on finishing your quilt. Anyone who didn't get to be here, we'd love for you to come by with your quilt so that we can get a picture!
Pat will be out of the shop beginning July 9th for another knee replacement! There will be a couple of weeks without newsletters.
Plans are being finalized for the ACCUQUILT GO! CUTTER CLUB. We are making our blocks in black and white. We have 5 of them displayed on the wall in the classroom so be sure to check them out. If you have a GO! Cutter and need help learning how to use it, this club is for you. You will be able to learn how to use each die in the 6", 8", 10" or 12" Qube. We will have an informational meeting in September. This class will be limited to 10-12 people as you will be required to bring in your cutter.
Are you in need of a new sewing machine? We have just what you need. Janome has employee pricing on several of the machines we have in stock. We also have the Skyline S7 at rock bottom pricing. We dropped the price for the shop hop but we are going to leave it until they are gone. So come and get yours today. You will love this great versatile machine.
With summer finally here, we are getting a lot of machines in for service. Our turnaround time is about 3-4 days. Darrell and Sharynn have just returned from Utah where they participated in Handi-Quilter training. We should be back to our normal schedule after July 9th. Thank you for your patience.